At the end of last month it was announced that Instagram has been added to Facebook's Creator Studio, allowing you to manage posts, insights and messages from all your Facebook pages and Instagram accounts in the one place. This has been quickly followed by the news that you can now publish and schedule content to Instagram and IGTV from Creator Studio. Previously, you could only schedule content to Instagram from third party apps like Hootsuite, so this is an important update for those who manage social media accounts.
Scheduling content through the Instagram Creator Studio allows you to see exactly what your posts will look like on Instagram. You can add multiple images, which you can't do on some third-party scheduling tools. It is also the only place where you can schedule IGTV content (you can't currently schedule Stories from Creator Studio).
To manage Instagram from Creator Studio, you need to have a business Instagram account and a Facebook business page (note that your Instagram account must be connected to your Facebook page). Then simply connect your Instagram account to Creator Studio.
As well as the new ability to publish and schedule content to Instagram and IGTV, you can manage posts, explore insights and check messages in Creator Studio:
Access your photo and video posts, Stories and IGTV content
Find out how well your posts are performing
Learn more about your followers and when they're most active
Discover what actions people take from your content
Find out the reach and impressions of your content
Manage your messages from one place
Do you, or will you, use Creator Studio to manage Facebook or Instagram? Leave your comments or questions below.
Things change quickly in the digital world – but don't worry, we are here to keep you up to date with what's new! Here are some of the changes we've noticed or read about recently.
Social Media Updates July 2019
Facebook Updates
Page Transparency
We noticed that Facebook has removed the Info and Ads section on business pages and added a new Page Transparency section. The Page Transparency summary shows the Page History (when it was created, whether it has been changed and if it has been merged with another page) and Ads From This Page, which links to the new Ad Library. The Ad Library shows you the active ads of a business page.
Removal of Page Info sections
Facebook is going to be removing some sections of the Page Info on business pages as of 1st August 2019. These will include: Mission, Company Overview, Biography, Affiliation and Personal Interests. Now is therefore a good time to check what you have in the Page Info section of your business page.
Instagram Updates
Branded content ads
At the beginning of this month Instagram announced that you can now promote branded content as ads. So if you're working with an influencer you will now be able to promote their organic branded posts as ads through your account. The ads will have 'Paid partnership with' beside the brand name in the feed and in Stories (for transparency). Creating ads from influencers' branded content allows businesses to "reach targeted audiences beyond the people who follow the brand and creator accounts".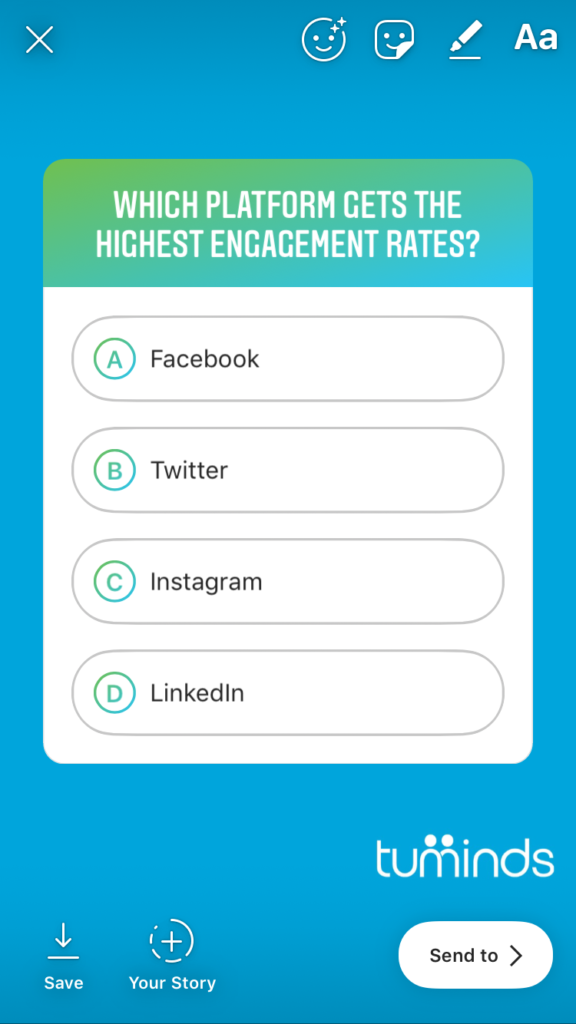 Quiz sticker
As of May you can now add a quiz sticker to your Instagram Stories. This is another way to encourage interaction with your Stories. You ask your audience a question and then give at least two possible answers (you select the right answer). Alongside the poll and question stickers, it's another way to increase engagement.
Stop Motion
It isn't available yet, but it was recently announced that Instagram is working on a new stop motion camera feature for Stories that will be coming soon. Stop motion videos are a fun way to showcase products and this will be another way to create engaging Stories on Instagram. At the moment it is said to be only 10 frames.
LinkedIn Updates
If you use LinkedIn you'll notice that you can now choose different reactions for a post: like, celebrate, love, insightful and curious.

LinkedIn has also announced that they are rolling out new features for page admins, such as new call to action buttons and custom CTA Analytics. As well as the 'follow' option there will now be five new call to actions: contact us, register, learn more, sign up and visit website. There is also a new Communities Hashtags feature which allows you to associate your page with relevant hashtags.
Google My Business Updates
There are new features coming soon to Google My Business (which we've written about in more detail in a separate post). The new features include welcome offers for new followers, short names and URLs, cover photos and photo displays, and logos. There is also a new Marketing Kit website where you can create social posts and posters from your Google reviews.
Google My Business is a great tool for promoting your business online and improving your Search Engine Optimisation (SEO). If you didn't already know, it is important to claim your listing and keep it up to date with photos and posts. Now Google has announced the addition of some new Google My Business (GMB) features "to help businesses make their Profiles as unique as they are and as descriptive as the queries that get customers there". After the recent Google+ shutdown it seems that this is a step towards giving GMB users more social media style options.
Although it seems to be just in the US at the moment, we're sure these new tools will be rolled out in the UK soon.
Welcome offers
Who doesn't love a special offer? According to Google, "more than half of online customers are looking for an offer or discount". Business owners will soon be able to create welcome offers to reward new followers (the option to follow a business on Google Maps is also new).
Short names and URLs
Another new feature is the ability to create a short name and URL for your business listing. This will make it easier to promote your GMB listing (for example, if you're asking for a review). People will also soon be able to search these short names in Google Maps.
Cover photos and photo displays
Along with being able to follow a business, adding a cover photo is another new feature that definitely gives it a more social platform type feel.
To optimise your listing you should upload photos regularly (the easiest way is to download the GMB app). Google has announced that photos uploaded by a business will "appear instantly and prominently on a new dynamic module on the Profile". Photo captions will also be coming soon.
Logo
If you have filled in all the core information on your listing (opening hours, contact information etc) you can have another branding opportunity, with your logo displayed on the right-hand side of your listing.
Google's new Marketing Kit website
As well as the new features, there is also a new Marketing Kit website where you can create posters, stickers and social media posts from your Google reviews and highlights to promote your GMB listing.
https://www.blog.google/products/maps/helping-businesses-capture-their-identity-google-my-business/
https://marketingkit.withgoogle.com/
If you need help claiming or improving your Google listing why not get in touch.
We have noticed a change on Facebook business pages. Up until recently there was an Info and Ads section on pages, which allowed any Facebook user to see all the ads that a page was currently running. This has now gone and there is a new Page Transparency section.
The Info and Ads section was announced in June 2018, as part of Facebook's plans to make ads and business pages more transparent. Anyone on Facebook could look at the ads a page was running on both Facebook and Instagram by clicking on this section, as well as find out information such as when the page was created and if the name of the page had been changed.
Now instead of the Info and Ads you will find a Page Transparency box on the right hand side of a business page. If you click on 'see more' you will see the page history and any active ads, with a link to the Facebook Ad Library.
The new Facebook Ad Library offers "a comprehensive, searchable collection of all ads currently running from across Facebook Products". You don't need a Facebook account to access the Ad Library. There is a search bar at the top of the page where you can type in the name of the page you wish to view ads for.
As a marketer, it is quite useful to be able view the ads that a page is running. You could use it as a research tool to find out what similar businesses/competitors are doing.
Read more: https://www.facebook.com/help/259468828226154
Did you notice this section had been removed? Did you look at Info and Ads of business pages? Leave your questions or comments below.
A Guide to Content Marketing: Part 1
Do you plan your content? Do you create content with a target audience in mind? Do you have a goal for each piece of content and a clear call to action to help move people along the buyer's journey? If so, keep up the good work! If not, don't worry – read on to find out what content marketing is, how it can help to grow your business and six steps for creating a content plan for your business.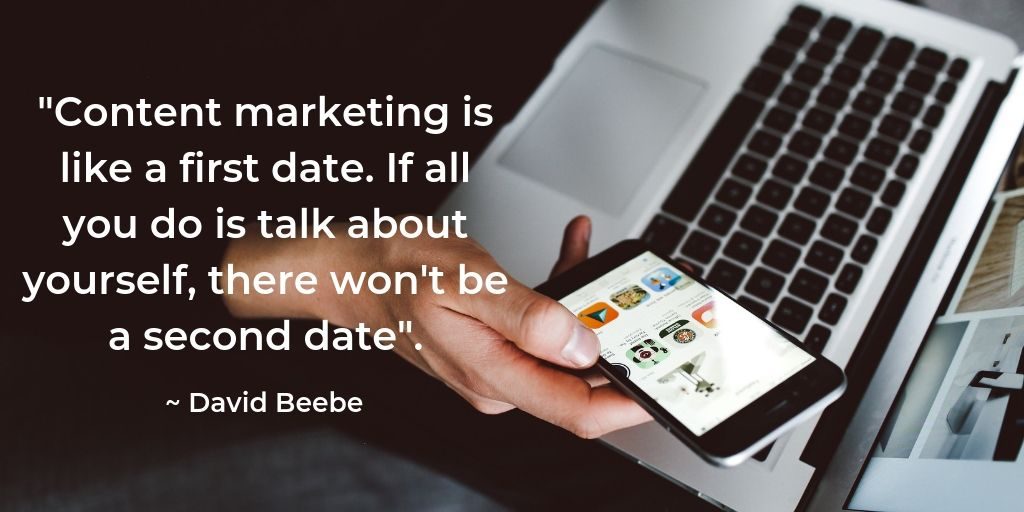 What is Content Marketing?
Content marketing is "a strategic marketing approach focussed on creating and distributing valuable, relevant and consistent content to attract and retain a clearly defined audience – and, ultimately, to drive profitable customer action" (Content Marketing Institute). Essentially it is all about knowing your audience and creating content that they will find helpful, which in turn builds trust and loyalty.
Content is key in telling your brand story and helping people to become aware of your business. Content marketing can help to nudge people from one stage of the buyer's journey to the next (from learning about your business to considering buying from you to becoming a customer and ultimately becoming a promoter of your business).
If you're using social media to promote your business, you will already be creating content. But are you thinking about who each piece of content is for and the goal of the content or are you just creating content to share on social media because you haven't posted in a while? Content marketing is about being more strategic about what you create, why you are creating it, where you are sharing it and how you measure the results.
In this content marketing series of blog posts we'll look at the different stages of a content marketing strategy: plan, create, publish and promote, and measure. This post is all about the planning stage.
Creating a Content Plan
Set goals
Everything in digital marketing starts with setting goals. What are your goals for creating content in the first place? (Awareness, engagement, conversion etc). Do these align with your business goals?
It is also important to have a goal for each piece of content – what do you want that piece of content to achieve? Goals should be SMART (specific, measurable, attainable, relevant and timely).
Define your audience and identify their challenges
Before you start creating content you need to think about who you are creating it for. What does your current audience look like? Do some research first – check Google Analytics and the analytics for each social platform to learn more about the demographics of your audience.
Is your current audience reflective of your target audience? Who is your ideal customer? You may have a number of different audiences that you want to reach. We recommend creating buyer personas for your ideal customers. Are they male or female? Where they are based? What is their job title? Where do they spend time online? What are their pain points? What challenges do your target audience face? How can your product or service help them?
Understanding the behaviour and needs of your audience is key in being able to create content that is relevant and valuable to them.
Do a content audit
Look at what content you already have (this is referred to as a content audit). Identifying your resources can help to save time creating content. Can you repurpose any content? For example, do you have a blog post that you could turn into a video? Could you round up some blog posts on a similar topic into a downloadable e-book?
Generate content ideas
The next step is to spend some time generating content ideas. Start with some research. Look at your Analytics to find out the keywords and phrases that people are typing in Google to reach your site, check what people are typing in your search bar, look at your FAQs, use tools such as Google Ads Keyword Planner, check what your competitors are doing, ask your audiences on social media and brainstorm in your team. All of this can help to form a bank of content ideas.
Try to come up with ideas for all the different stages of the buyer's journey, i.e. what content will help your business to be found online? What content would help move someone from the consideration stage to making a purchase?
Plan the creation and sharing of content
What kind of content are you planning to create (blog posts, social media posts, e-books, infographics, videos…?). What resources do you have available? For example, who in your team is going to create the content? How much time do they have for content creation? Which apps and tools will you use to create videos or infographics?
Where will you promote your content? On your own website, in a newsletter or on social media? Think about your buyer personas and which platforms they use before deciding which social media channels to use.
Create a content calendar
Consistency is vital in digital marketing and it is important to plan your content so that there are not periods of time where your blog or social channels haven't been updated because you can't think of what to write. A calendar can help you to ensure you have a plan for the upcoming months for what content you are going to create and where you are going to share it.
Would you like a FREE 2019 calendar for planning your social media activity? Email us at hello@tuminds.com.
To measure the effectiveness of website Search Engine Optimisation (SEO) and social media activity it is essential to use web analytics.
Google Analytics gives you information on the visitors to your website, where they are based, how they found your website, what pages they look at etc, which is invaluable information for marketing products and services. By understanding how visitors use your website you can determine where your website perhaps falls down in satisfying those users. This can be as simple as viewing which pages have the highest bounce rate (and therefore, drive users away from your website) through to in-depth content analysis, so that you understand what type of content users are looking for on your website.
If you're new to Google Analytics, here is an overview of some of the information you can find and where you can find it.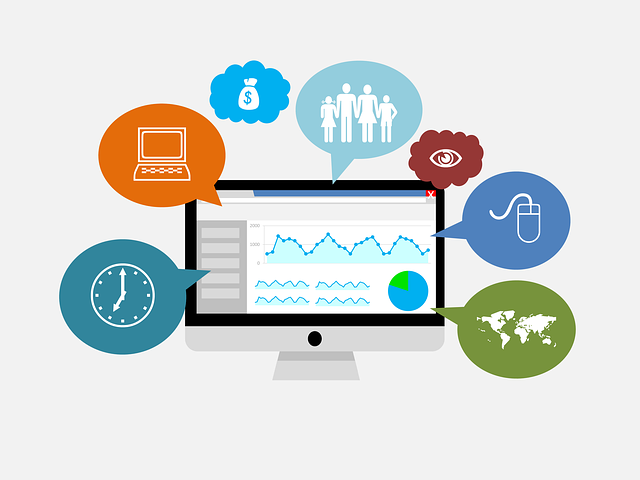 Google Analytics: The Basics
Home
The Home section (where you land by default when you open Analytics) gives a useful overview of how the site is performing. First of all you'll see an overview of the users, revenue, conversion rate and sessions for the last 7 days (you can change this to show a different time frame). Before we go any further, though, let's go over the terminology:
Users = the unique visitors to the website
Sessions = the different times that someone visited the site
Bounce rate = the number of people who left the website without performing any other action
You will also find information on: active users right now (the number of people on the website in real time); how you acquire users; how well you retain users; when your users visit; where your users are; what your top devices are; what pages your users visit; how well you are performing against goals; what your top selling products are; and how your Google Ads campaigns are performing.
Audience
The Audience reports allow you to determine whether your perception of your target audience is correct. These reports offer a whole host of user-specific information, which is great for understanding your target audience. This information includes elements such as user locations, age, gender and interests.
By understanding as much as possible about your website audience, you can not only ensure any online advertising and campaigns encompass the interests of your audience, but you can also make sure you are targeting the correct geographical locations on the correct devices.
The Audience reports can also offer some hidden gems of information for improving the usability of your website. By understanding aspects, such as which type of device (desktop/laptop, tablet or mobile phone) your users are using most regularly to visit your website, you can ensure your website is compatible to offer the best possible user experience.
Audience > Demographics will show you age and gender.
Audience > Behaviour gives you information on new versus returning visitors, how frequently and how recently they have visited, and how engaged they were.
Audience > Geo > Location shows information on the location of visitors to the website.
Acquisition
The Acquisition reports tell you where your website visitors have come from: organic search, direct traffic, referrals (who is linking to your site), social and other.
The impact of social media to web traffic can be measured via Acquisition > All Traffic > Referrals and Acquisition > Social.
Acquisition > Search Console > Queries will show you which keywords users are typing into Google to find your site, which gives you a better understanding of what keywords to use.
Behaviour
From the behaviour reports you can determine which pages users engage with the most, so that you know those with sub-optimal engagement require further investment.
Behaviour > Site Content > All Pages shows which pages are most popular.
The "Behaviour Flow" section (Behaviour > Behaviour Flow) shows the user journey through the site. It is great for understanding where users drop off when browsing, which pages they visit and how long they spend on each page. This can help determine which areas of your website require additional optimisation.
Conversions
This section helps to improve the performance of your website. You can set goals, find out information on sales (if your E-commerce is linked to your Analytics) and find out how your channels work together to generate sales and conversions.
If you need help with Google Analytics get in touch.
As of 2nd April 2019 the consumer version of Google+ will be no more – all profiles and pages will be deleted. The failed social media platform is shutting down because of "low usage and the challenges involved in maintaining a successful product that meets consumers' expectations". The announcement of the closure came shortly after news of a data breach in March 2018 and following a second data leak in November, the decision was made to move the shutdown from August to April 2019.
What is Google+?
Google+ was launched in 2011 but never took off as a social platform in the way that industry experts had expected. Research showed that those who were on Google+ were not very active or engaged. The main reason for businesses to be on Google+ (and the reason we always suggested having a presence on the platform) was to help Search Engine Optimisation (SEO).
What will happen on 2nd April?
All Google+ pages, and any photos and videos stored in your album archive, will be deleted on 2nd April. If you have a Google+ account you will receive (or may have already received) an email from Google telling you about the shutdown and linking to information on downloading your content before April.
It is important to note that no other Google products (such as Gmail, Google Drive, Google Photos and Google My Business) will be shut down. The Google Account you use to sign into these services will remain. If you are a G Suite user you will still have access to Google+ within your organisation.
What do I need to do?
If you have content in your personal Google+ account or you manage a Google+ page, you need to log in and download the data before April. Note that it could take some time to download your Google+ content so it is recommended that you start before 31st March. (If you're not sure whether you have an account or not, you can check by logging in here: https://plus.google.com/discover). Find out more about how to download your data and save your videos and photos here: https://support.google.com/plus/answer/1045788.
You also need to make sure that you remove any links to your Google+ business page from your website.
Take a look at these frequently asked questions about the Google+ shutdown for more information.
Further reading:
https://support.google.com/plus/answer/9195133h
https://support.google.com/plus/answer/9217723
Contact us if you want to discuss social media support or strategy.

If you've read about why and how you can be using Instagram Stories to promote your business but you're not sure how to actually create Stories then this post is for you!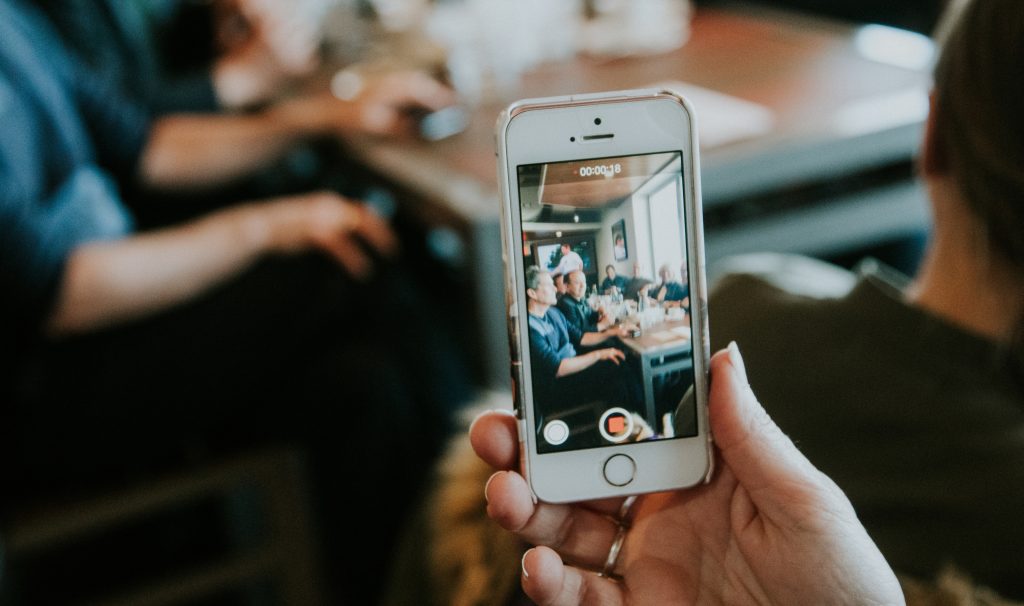 How to Add a Photo or Video to Instagram Stories
1. Open up the Instagram app and click on your profile photo with +, or the camera icon on the top left hand side of the screen.
2. Put your finger on the screen above the white circle and swipe up to see your photos and videos. If you want to just write some text, you can choose 'Type' from the options at the bottom. The other options along the bottom of the screen here include Music, Live, Normal (to take a photo straight from this screen), Boomerang (a short looping video), Superzoom, Rewind and Hands-free. It's a good idea to break up a series of photos in your Stories with video and short clips using Boomerang, Hyperlapse etc to keep your audience interested.
3. Choose a photo or video (if you choose a photo older than 24 hours the date will also appear – you can delete this if you want by dragging it to the bottom of the screen where a bin icon will appear). You can now select multiple photos to add one after the other if you wish.
4. There are a number of creative options for editing/adding to the photo or video to help increase engagement: swipe to change the filter, add text, a GIF, location, poll, hashtag, music, the question feature, or mention another account (using @)… Take a look at this screen recording for some of the options. (You don't want to include too many of these in the one photo).
5. Select the +Your Story at the bottom of the screen to add the photo or video to your story. To add more, go back to the camera icon on the top left hand side of the screen and repeat the steps above.
Are you using Instagram Stories for your business? Do you have any questions about creating content for Stories? Let us know in the comments below.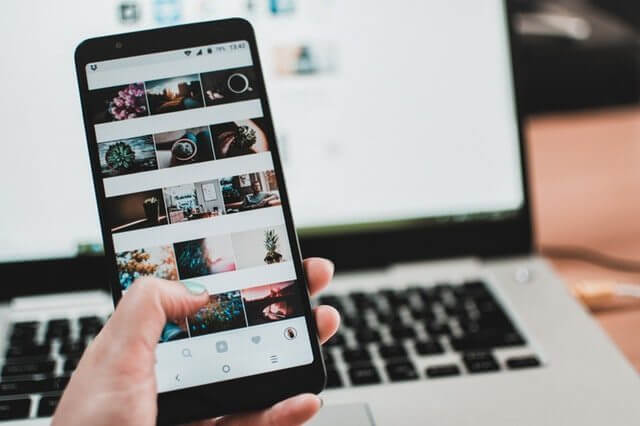 Posting Single Images Direct from Hootsuite to Instagram (It's Back!)
Good news for Hootsuite fans – the ability to post single images direct from Hootsuite to Instagram is back! (Following the Cambridge Analytica scandal last year, there were some restrictions put in place and posting/scheduling to Instagram was no longer available). Plus, there is now the addition of being able to post or schedule videos.
To set up direct publishing from Hootsuite to Instagram, follow the steps below.
Step 1:
If you haven't already converted to a business account on Instagram and want to do direct publishing, go to your profile tab (the three lines in the top right hand corner) > Settings > Switch to Business Profile.
Step 2:
Connect your business Instagram account to your Hootsuite dashboard. Click on '+Add Social Network', select Instagram and 'Connect with Instagram'. You will be asked to log in to your Instagram and Facebook accounts.
If you have already added your Instagram account you will need to re-authorise the account for direct publishing. Go to your profile photo on Hootsuite and click on 'Manage Social Networks'. Select your Instagram account and then 'Connect with Instagram'. As above this process involves logging into your Instagram and Facebook accounts to authenticate the account.
Step 3:
Create your post. You can either click on 'New Post' at the top right or 'compose message' at the top of the screen (from March 2019 the default will be the 'New Post' composer which allows you to preview how your post will appear on Instagram). Select your Instagram account, create your post and add your image. You can either post right away or schedule for a specific date/time.
Posting Video from Hootsuite to Instagram (It's New!)
A brand new feature is the ability to also post/schedule videos from Hootsuite to Instagram. Again if you have a personal account it is through the mobile notification method, and for business accounts you can post/schedule directly from Hootsuite. This has to be done in the New Post composer as it is not supported in the legacy composer.
Further reading:
https://help.hootsuite.com/hc/en-us/articles/360000061827-Enable-direct-photo-publishing-to-Instagram-business-profiles
If you are looking for social media training find out how we can help.
Do you use Hootsuite to post or schedule content to Instagram? Leave any comments or questions below.
Tips and Trends for 2019
We've combined some of our best practice tips for digital marketing with what the experts say will trend in social media in 2019 – so if you're looking to set some new year resolutions for your social media marketing, here's what we suggest.
1. Reflect and review
Take a step back and think about why you are using social media in the first place.  Creating a social media strategy will help to ensure that your social media goals align with your business objectives.  If you already have one in place, the start of a new year is a good time to review your social media strategy and to do an end of year social media review.  This will help you to see what worked for you in the last 12 months and for planning in 2019.
2. Plan your social media
If you don't plan your social media activity, your content may be rushed and chaotic. Using a social media calendar can help you stay organised and make it easier to visualise your content across your platforms over a specific time-frame. It also helps to plan your marketing around key events in your industry/company and create a consistent flow of content. It could be as simple as an Excel worksheet, but make sure you have somewhere to note what is happening over the next three months and what you plan to post when. Take a look at this blog post by Hootsuite with social media calendar templates for some ideas on where to start.
3. Create content that your audience wants to read
Creating engaging content is key.  Think about who your audience is and what questions or problems they have.  How can you help them?  Before you create content you should think who is going to read it and what stage they are in the buyer's journey.  For example, is it intended for people who haven't heard of your business or to help in the consideration stage?  Following on from above, it is important to plan out your content for the coming months.  Once you have created a bank of quality, engaging content you can focus on promoting it across your social media channels.
4. Claim/review your Google Listing
Claiming and improving your Google Listing is important for your local Search Engine Optimisation.  This is managed through Google My Business.  Optimising your listing ensures that potential customers can find out when you're open and where your business is located, as well as attract new customers.  It is important to update your listing with photos (businesses who regularly upload photos are more likely to have a higher search ranking).   We also recommend using the new Post feature to help with SEO and encouraging people to leave reviews.
5. Personalise your content
Personalisation has come up again and again in the recent wave of posts on social media trends for 2019. You can't personalise content unless you know and understand your audience, so first of all do some research. Check your Analytics to find out more about your audience (you can use Facebook Insights, Instagram Analytics, Twitter Analytics and Google Analytics). Use this data to help you create different personas so that you can then create content for their interests and needs. This is particularly important when creating adverts on Facebook or sending out email newsletters.
6. Create visual content
Visual content is still key, with video continuing its reign as king.  Video content gets the most engagement on social media, and video is an effective way of storytelling.  Video, and live streaming in particular, should definitely be factored into your social media marketing plan for 2019.  Experts predict that Instagram will invest heavily in IGTV (its video platform) in 2019 and that the rise of video will only increase.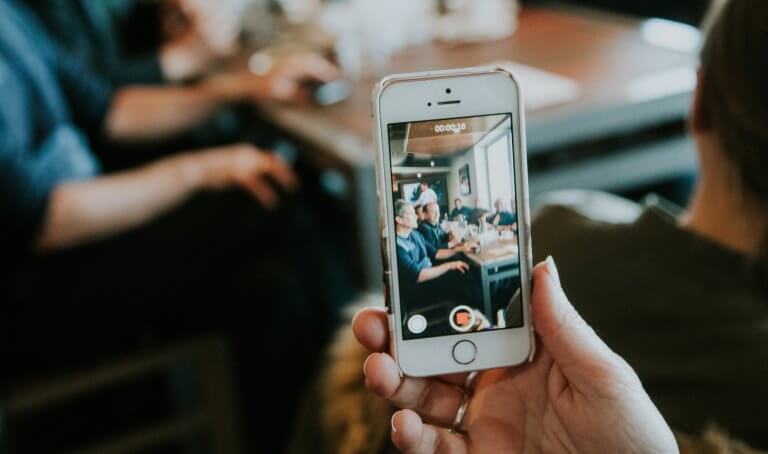 7. Create Stories
Some experts are predicting that in 2019 stories will become the primary way to share content on social media.  Stories disappear after 24 hours (on Instagram you can save them to Highlights) and users love the raw, 'in the moment' content.   Instagram has 400 million users watching Stories every day, Facebook has around 150 million daily viewers of Stories and both LinkedIn and YouTube are testing Stories.   There are a host of different ways you could use Stories to build brand awareness and engagement: share behind the scenes content (which ties into number 8 below), post exclusive offers, share sneak peeks, use poll and question features to gather feedback etc.  There are no 'peak times' to post as they remain there for 24 hours and the content isn't expected to be polished.  (And with its massive growth over the last few years, we'd suggest looking into whether Instagram can help you achieve your social media goals in 2019 if you're not currently using it).
8. Be authentic
Many posts on 2019 trends mention transparency and authenticity. Building strong relationships with your customers has always been important but after some of the events of 2018, such as the Facebook scandal, it is more important than ever to build trust with your audience.
Sharing user-generated content, showing the personalities behind the business and taking users behind the scenes can all help to build trust and create meaningful engagement with your audience. Remember, people buy from people.
Key resolution for 2019:
Factor some of the key trends into your social media marketing (video/live streaming, Instagram Stories, personalisation etc) but, most importantly, make sure you are engaging, authentic and show the human side of your business.
Useful reading:
https://www.fastcompany.com/90281575/social-media-predictions-for-2019-a-return-to-personal–authenticity
https://www.socialmediatoday.com/news/6-tips-to-strengthen-your-social-media-strategy-for-2019/543898/
https://business.pinterest.com/en/blog/three-ways-marketing-will-change-in-2019
https://www.socialmediatoday.com/news/email-marketing-emerging-trends-to-survive-2019-and-beyond-infographic/544438
https://www.plannthat.com/instagram-stories/
https://www.socialmediatoday.com/news/5-social-media-marketing-trends-that-will-dominate-2019/543477/
https://www.forbes.com/sites/forbesagencycouncil/2018/11/14/six-content-marketing-trends-for-2019
https://www.socialbakers.com/blog/social-media-video-tips
https://www.fastcompany.com/90252767/4-tips-on-how-to-succeed-with-stories