A Social Media No-Brainer: First Week at Tuminds
Last week I officially started working with Rene and the Team at Tuminds. It was probably the best start to a new job I've had. Monday started with the loveliest welcome, with flowers, bunting and cake – what more could a new start ask for?
As with all new jobs I started off being introduced to the processes and systems Tuminds uses. Was brought up to speed on clients, workshops and our services. Spent time getting to know my new colleagues and the team at Dynam, who we share this beautiful old farm house building with. I was getting more and more excited about the opportunities and projects ahead of me.
When I first moved up to the Highlands in 2009 I immediately started advocating the benefits of using social media as a communication, marketing and development tool, for the cultural sector. For four years I set out on a mission to help both entrepreneurs, charities and social enterprises understand how to use social media and how to best put it into action. It was a rewarding time, I met so many incredible people and despite promoting online tools, I found myself traveling the length and breadth of the country; meeting, training, talking and socialising with a wide and wonderful array of people.
After this I embarked on a freelance career. I was able to expand my client base to include more private businesses, which gave me more scope and understanding of the differences between the public and private, the large scale and the small, the rural and the urban business. It was a fascinating two years, but working on your own can get lonely after a while.
So when Rene got in touch via LinkedIn one day, I jumped at the chance to see what opportunities he held, and low and behold Tuminds was looking to bring someone onto the team as an Account Manager and trainer. Luckily Rene and I have known each other for years, geeking out about social media over lattes and cake at Artysan's Café in Inverness. It was an absolute no-brainer when he asked if I would be interested in the position – and well the rest, like they say, is history.
As I am not one to sit back and wait, I dived straight into work. Researching our clients, new social media tactics and getting to grips with the fantastic workshops Rene has been delivering all over the Highlands and Islands.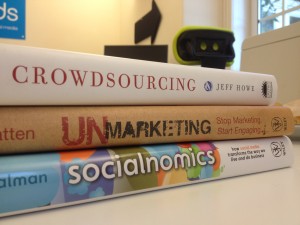 I joined Rene on Thursday, to see him in action delivering two social media workshops, the first an introduction to the world of social media and the second a more advanced session for businesses looking for those next steps. These are free workshops provided by Highlands and Islands Enterprise as part of their Digital Program to encourage more businesses to use online tools, such as social media, in a more effective and beneficiary way.
Each night last week I found myself, tablet in hand, researching tools and social media strategy ideas that we can promote and use for our clients. The growth in the social media world has been so fast paced since the mid-2000s, with more and more people accessing the internet from their mobile devises, shopping online, connecting with people and brands on the move, that the possibilities to engage and convert social media users into customers and loyal fans is boundless.
With a creative background and appreciation, the reason I am so drawn to social media as a method of marketing, over traditional direct marketing tactics, is that you are positively encouraged to be creative, quirky and interesting to get noticed, you can have a laugh, be informal where appropriate, connect with other people and businesses, and most importantly give a real human voice to your brand.
The one major lesson I have learned about communication over the years, is the importance of a good balance between the online and offline. Social Media tools are a brilliant way of connecting people and businesses across large areas without having to physically meet up. It allows you to collaborate, discuss, debate, confer, share and review one another while seated at your desk, while on the move or at home in front of the TV. But the face-to-face, personal and human interaction is still vital to the success of any business, and if you're able to find that perfect balance between the two, then you are onto a good strategy.
Sian Jamieson Signing Off
Connect with me @_sianjamieson and on LinkedIn