Facebook Changes: Again
In the last fortnight, we received a number of enquiries from business owners who, when they logged into their Facebook pages, found that they couldn't access their pages newsfeed, 'like' other posts as their business and follow new pages as their business page.
Has this been frustrating you too?
Facebook regularly makes changes to the functionality, design and algorithms across the social networking site to improve our user experience and ensure we are seeing the posts that are most relevant to us. This is all good.
However, what is not so good, is that Facebook tends not to notify us of these changes when they take place, via our Facebook accounts, and when the changes come they can cause all sorts or irritation and chaos.
So for those of you who are still wondering how to access your Facebook page functionality like you used to, here's a few new tips to add to your social media repertoire.
Accessing your Pages newsfeed.
To create some degree of separation between our personal profiles and business pages, we've learnt over the years to Like and Follow other Facebook pages as our business. It was all so easy in the old days, we would select to use Facebook as our Page and then we could click on 'News' and there in our newsfeed were all the pages that we followed for business purposes.
Since the update, we can't do this anymore. Instead, we can access our Pages newsfeed by clicking on the link 'See Pages Feed' from our own Facebook Page.
This lets you now see all the posts from other pages you have liked. Letting you interact, share and engage with these posts as we used too.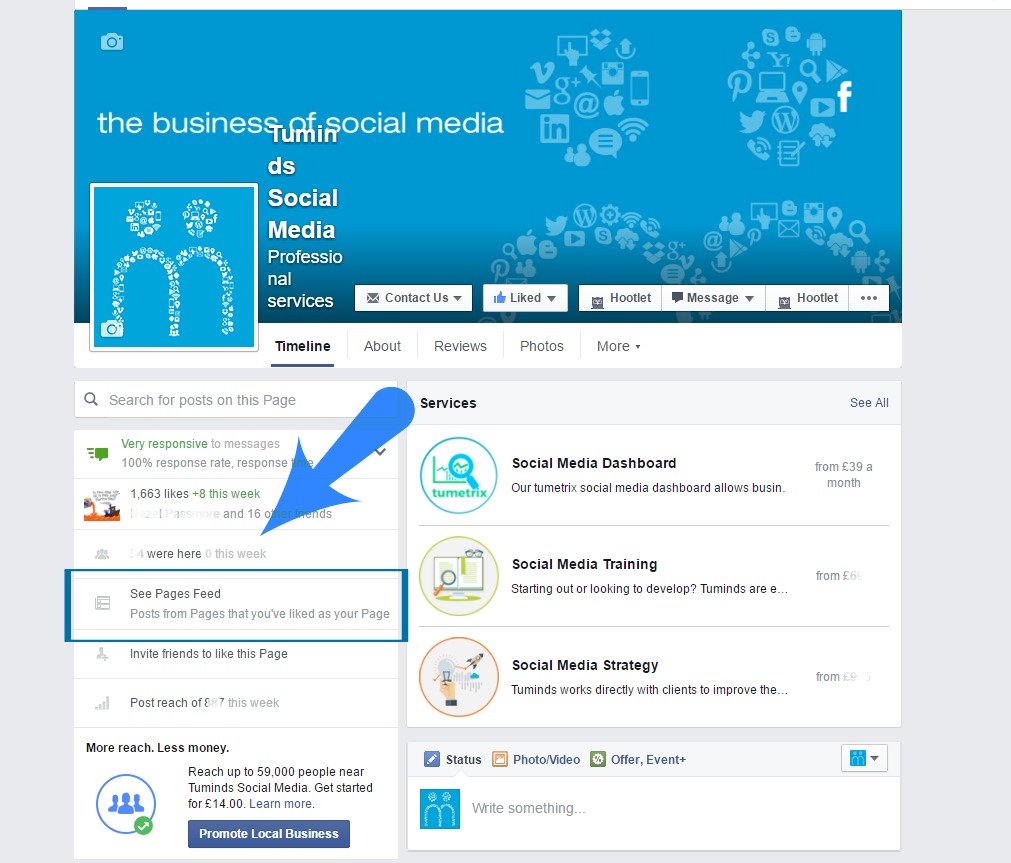 Liking, Commenting and Sharing as your page.
There are two ways to do this:
A. When you access your pages newsfeed, as outlined above, you can like, comment and share directly as your page, it sets the default to your page, not your personal profile. To be sure look to the right-hand side of the Like, Comment, Share buttons and you should see your business page logo and a downward facing arrow. When you click on the downward facing arrow you can now see that you can like, comment or share as your personal profile or as the page(s) you run.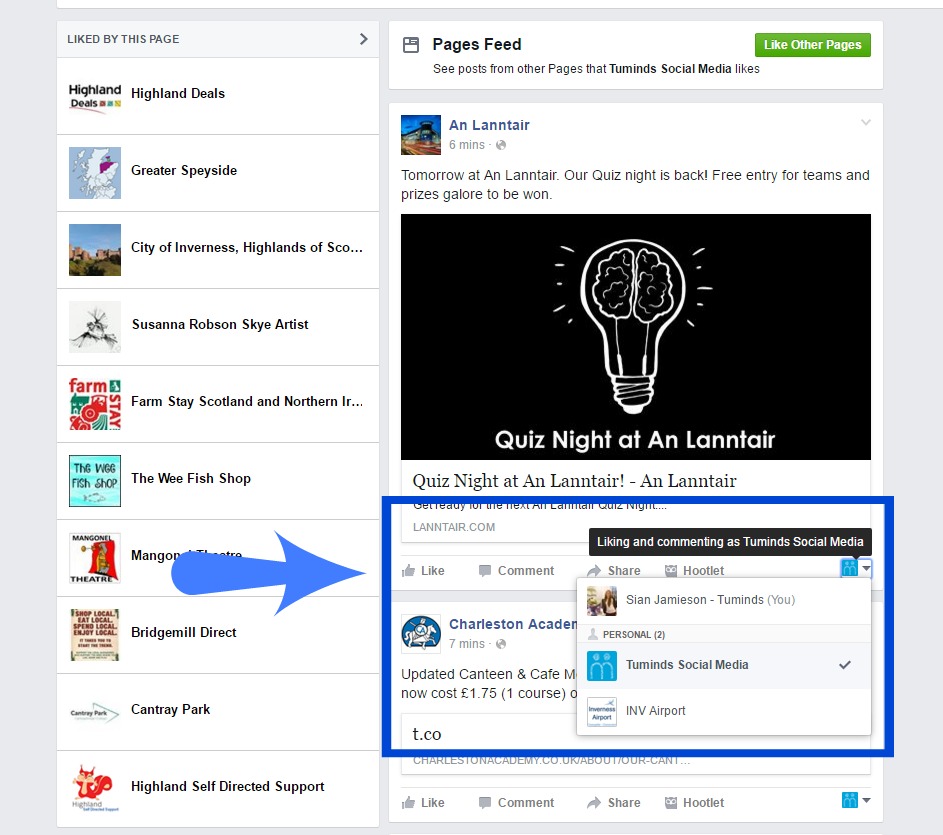 B. Say you've used the search bar to look for a page, you click on the search result you want and you're taken to that Facebook Page. Again, look to the right-hand side of the Like, Comment, Share buttons and there you should see your personal profile picture and a downward facing arrow. Click on the downward facing arrow and you can now select the page you want to use to like, comment or share.
Liking another Business Page.
Back in the good old days when you were using Facebook as your page, you could follow another page with the simple click of a button, now there are a couple more clicks for you to take.
First, find the page you want to start following.
Second, DO NOT click 'Like'.
Third, click on the 3 circles tab next to 'Suggest Edits' or 'Message' (depending on the type of page). A drop down menu will appear and the third option is to 'Like as your Page', once you've clicked on this another dialogue box will open up prompting you to select the page you want to use to 'Like' this page.

Change always causes confusion, irritation and sometimes despair. However, when it comes to any form of digital online technology we have to understand that change will happen, it will happen overnight without warning, and we have to adapt to that change. I've been using Facebook since it first went live to people around the world, and I can tell you, what I was using then is nothing like what Facebook is today, and it is definitely for the better.
For updates, advice and insight into all things social media, please Like us on Facebook, follow us on Twitter, connect with us on LinkedIn or check out our YouTube channel.
We're always happy to help with any social media conundrum.
Update: we're planning a workshop on the latest Facebook changes in May. Contact us if you like to get an invite