Three New Tools for Visual Discovery on Pinterest
At the beginning of February 2017, Pinterest CEO Ben Silbermann, along with co-founder and chief product officer Evan Sharp, revealed three new Visual Discovery tools at the social network's San Francisco HQ: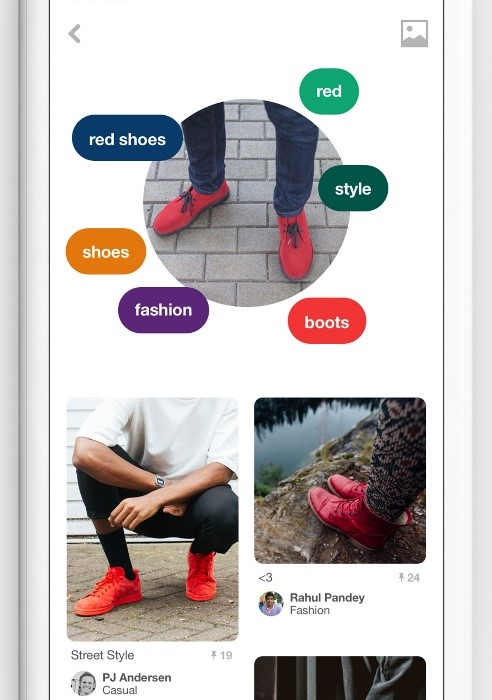 Lens
Shop the Look
Instant Ideas.
Taken together, these three new tools look like taking Pinterest to the next level for retailers and brands looking for ways to increase online sales and engagement.
Lens is currently in beta [USA only] on Pinterest's iOS and Android applications, allows users to take a photo of a real-life object, and with some Pinterest magic, they'll be presented with recommendations for similar objects or "ways to bring the idea, recipe or style to life." Indeed, Pinterest also said that will display images that show the subject in finished projects; for example offering room-décor ideas with similar clocks when a photo of a clock is searched for.
Sharp elaborated in a blog post:
"Just point Lens at a pair of shoes, then tap to see related styles or even ideas for what else to wear them with. Or try it on a table to find similar designs, and even other furniture from the same era. You can also use Lens with food. Just point it at broccoli or a pomegranate to see what recipes come up.

For now, Lens works best for finding home-décor ideas, things to wear and food to eat. As more and more people give it a try and we continue making improvements to our technology, results will get even better, and the range of objects Lens recognizes will get increasingly wider."
Dmitry Kislyuk, engineering manager over at Pinterest's visual search team, also provided some more insights on his blog post:
"Lens builds on the advancements we've made in computer vision and machine learning over the last year and goes beyond visual similarity. Lens tries to understand the objects you're looking at and how they could be useful to you. For example, if you see strawberries on sale at the grocery store, just point Lens at them, take a picture and get creative recipe ideas (like chocolate strawberry waffle balls … on a stick!?), not just strawberry images. If you point Lens at an awesome pair of sneakers you find, Lens won't just find visually similar sneakers, but will return outfit ideas with the same sneaker style."
Shop the Look allows pinners to browse and buy fashion and home items they've found. Simply by tapping a blue circle on a product pic they fancy, Pinterest will recommend similar items that are available for purchase inside Pinterest itself, or via brands' websites.
Pinterest is currently working with US partners including Refinery29, Olapic, and Shopstyle to enable users to buy from brands and US-based retailers such as CB2, Macy's, Target, Neiman Marcus and Wayfair. We've yet to hear details of how this model would translate worldwide, but – and this is pure speculation at this stage – it is not difficult to see Pinterest partnering with ASOS in the UK.
Pinterest has already revealed that, in tests, users engage with Shop the Look Pins three to four times more than they do with Pins without the feature. Pins are also saved by users five times more and generate two to three times the number of visits to brands' websites.
And finally, Instant Ideas [available now in UK on mobile!] allows users tap the circle in the bottom-right corner on a pin they like the look of and Pinterest will show them similar ideas.
Pinterest claims that its technology can recognize over 1 billion objects, and [not unexpectedly, having tested this ourselves] they've seen a doubling or tripling of engagement with the real-time recommendations from Instant Ideas during testing.
Sharp added:
"Not only can you find ideas using objects you see out in the world, but starting today, you can do the same thing when you're on Pinterest with Instant Ideas. When you notice an idea that looks interesting, just tap the circle that appears on each Pin to instantly unlock related ideas. Circle a clawfoot bathtub to see similar tub ideas, or an asparagus dish for more recipes.

The new ideas appear right inline, so it's like you're instantly reshaping your feed around whatever catches your eye, all without losing your spot. Behind the scenes, your feed will get even more personalized, delivering you the very best ideas that people are loving on Pinterest, all in real-time."
Pinterest President Tim Kendall elaborated further on the new tools in a Pinterest for Business post:
"People come to Pinterest looking for ideas for everyday life (what to eat, what to wear), big life events (planning a honeymoon, running a marathon) and everything in between. And inspiration can strike at any time. Someone might come here looking for recipes, and then stumble upon kitchen ideas. And suddenly they've found a new backsplash or a wall color they want to try. That's the magic of Pinterest: Everything's visual, so it's easy for people to spot the ideas they love.

As they explore what ideas are out there, they go from open-minded discovery to collecting different options to consider, all the way through to purchasing whatever option they love most. And there are lots of opportunities for businesses to connect with people along the way. With these new visual discovery tools, now there are even more ways for people to find products they love—including things they didn't even know about before. No need to type in a search or even know what the product is called to find it—people can just let their eyes and tastes guide them. As people have more and more ways to discover ideas, it's even easier for them to find the ideas they want to see from business like yours."
And finally, Pinterest has released a short video on their new Visual Discovery tools which you can watch now!:
https://www.youtube.com/watch?v=GtDhZb1nNF0 [Video via Pinterest Channel]