How I Became a Certified Digital Marketing Professional in 4 Weeks
At the end of August, I attended the Professional Diploma in Digital Marketing course (the first to be held in the Highlands).  By the end of September – after the 5-day course, lots of revision and a 3-hour exam – I was a fully-fledged Certified Digital Marketing Professional.
The course, developed by the Digital Marketing Institute (DMI), was run by Nicholson Solutions and Tuminds Social Media.  I wanted to do the digital marketing course as my knowledge of digital marketing was from on the job learning.  The course offered the opportunity to consolidate and strengthen my knowledge of social media and email marketing.  Furthermore, I was excited to learn more about things I didn't have a great deal of experience in: Analytics, Search Engine Marketing (PPC), Search Engine Optimisation (SEO), Strategy, and Digital Display Advertising.
5-Day Classroom-Based or 5-week Online Training
As a busy working mum, I was happy to learn that it was a 5-day classroom-based course.  (I was also delighted that it is held in the north of Scotland).  At first I wasn't sure whether to go for the classroom training or the 5-week live online course.  In the end, I am pleased that I opted for the classroom-based training for two reasons – a) it was good to focus completely on the course for that week without any other distractions, and b) the group consisted of six like-minded individuals, with lots of sharing of stories/thoughts/experiences.  It was great to hear insights from the group and to learn from each other.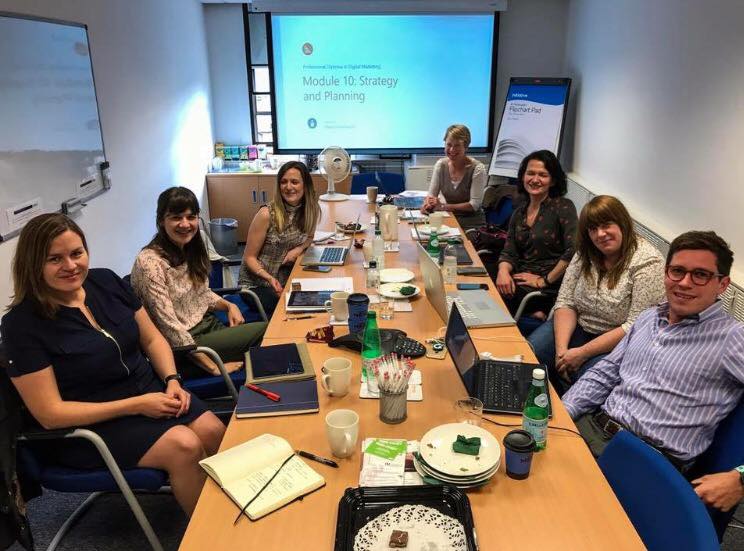 5 Days, 10 Modules
As well as two modules on Social Media Marketing and a module on Mobile Marketing (taught by Tuminds founder, Rene), the lovely team at Nicholson Solutions taught the modules on: an Introduction to Digital Marketing, SEO, PPC, Email Marketing, Analytics, Digital Display Advertising, and Strategy and Planning.  I learnt a huge amount and took away lots of useful tools as well as a full notebook.
After the Digital Marketing Course
The learning doesn't stop after the 5 days.  I booked my exam for just under three weeks after the course finished which meant a lot of studying between.  I completed the module exercises (which takes around 20 hours), the practice questions and an exam simulation on the DMI website.  There are also video lectures, which I found really useful for revision.
You have 6 months to sit the exam but if, like me, you are keen to do the course and the exam close together, you could become a Certified Digital Marketing Professional in around 4 weeks.  I am delighted to now have a qualification to go alongside my experience.
The diploma course provides you with the core concepts of digital marketing but, most of all, I felt that it just created a stronger – more complete – foundation upon which I will continue to build.  What the course really gave me, though?  Confidence.  Confidence in myself and my abilities as a digital marketer.
The next online course runs from 17 October – 16 November (two evenings per week for five weeks).  Register your interest here.  Another classroom-based course will run in Inverness in spring 2018 – email [email protected] if you would like to receive more information.