How-Tu Tuesday: Claim and Improve your Google Listing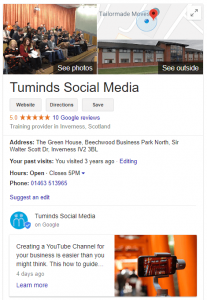 We are obviously big fans of social media here at Tuminds, but Google is still the biggest driver of traffic to websites. If you search for a business on Google, you'll see a side widget showing the location of the business, photos, street view and any Google reviews on the right-hand side of the page. This is the Google listing and it's a great tool for improving your local Search Engine Optimisation (SEO) – the more you interact with your Google listing, the more likely you are to appear higher in listings and on the map in search results.
But it's not just important for SEO. People use the listing to see the location, photos and reviews of a business, and will often rely on the listing for information. We have heard of people who have driven quite some distance to visit an attraction only to find it closed (they had checked the listing rather than going to the attraction's website, but unfortunately the opening times hadn't been updated). Optimising your listing will therefore ensure that potential customers can find out when you're open and where exactly your business is located etc, as well as attract new customers.
How to Claim and Improve your Google Listing
1. Claim and manage your Google listing
Firstly, you need to claim your listing (if you haven't claimed it, you'll see: "Own this business?").  The way to claim and manage your listing is through Google My Business.  If you don't already have a Google My Business account, you need to create one first.  (If the listing has already been claimed by someone else, you can request ownership of a business listing).   It's important to note Google's guidelines: "Listings on Google My Business can only be created for businesses that either have a physical location that customers can visit, or that travel to visit customers where they are".
Once you've claimed the listing, you can start optimising it to help it stand out to potential customers. Add key information to the Info section, including any services you offer (another new addition). Make sure you regularly check your listing as anyone can 'suggest an edit' to your listing, or answer a question about your business (see below for more on questions).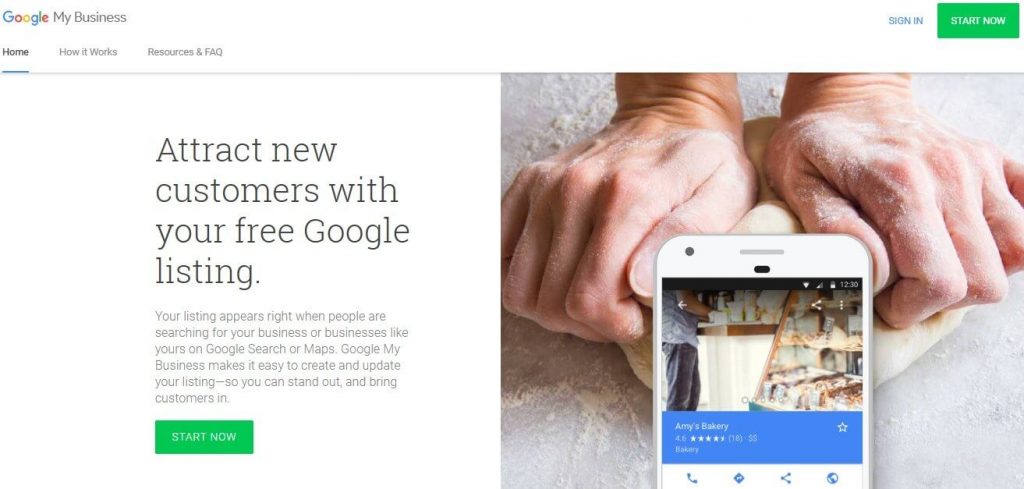 2. Respond to reviews and questions
If there any Google reviews, make sure you respond to them. Reviews are so important in the decision-making stage of the buyer's journey (when was the last time you bought something without reading any reviews?). As well as improving your SEO, it also helps to give potential customers a positive impression of your business (people who have taken the time to write a review appreciate a response – and this applies to Facebook and TripAdvisor too).
There is also now a NEW Questions & Answers feature, so make sure you also check and respond to these in Google My Business.
3. Upload photos
Keeping your Google listing up to date with photos and videos is another way to assist with placement in search engines. (Businesses who regularly upload photos are more likely to have a higher search ranking and it's another way of capturing the interest of potential customers). Adding videos allows you to tell the story of your business in an engaging way. The easiest way to regularly add photos is through the Google My Business app (see below). Your customers can also post photos of your business.
4. Download the Google My Business app
The Google My Business app can be used to easily upload photos from a mobile device. To make life even easier, it will remind you each month to upload new photos. It is important that a description with relevant keywords is added to each photo.
5. Promote your events and special offers
The new Google My Business Posts feature is a great way to promote your events, latest news and offers, and will also improve SEO (you'll find it under Home on your Google My Business dashboard). Posts appear at the bottom of your listing and look like a mini blog or social media post: a photo and 100-300 words of text. We used this feature to promote a course and it very quickly ranked highly for those search terms.
6. Check Insights
Google My Business also offers Insights so you can find out valuable information such as: how customers search for your business; queries used to find your business; where businesses view your business on Google (listing on search or on map); and customer actions (how many people visited your website, called you, requested directions). Data which can then be used to make better, more informed, marketing decisions.
7. Add a booking button – coming soon!
The ability to book online through a Google listing has already been rolled out in the US and will be coming soon to the UK (we'll let you know as soon as it's available!). This means that people can book an appointment/class with you without even leaving Google, making it easy for them to become customers.
Further reading:
https://moz.com/blog/how-to-optimize-your-google-my-business-listing
https://www.blog.google/outreach-initiatives/small-business/easy-booking-button-businesses-google/
https://blog.hubspot.com/marketing/local-seo-stats
Do you need help with your Google listing or social media marketing?  Contact us here or find out more about our new e-Learning platform.