Ask Tuminds Facebook Live: Week 1
The Tuminds team went live on Facebook on Tuesday 7th April to answer your social media questions and share some tips for managing social media during the COVID-19 pandemic. During this time of isolation, it was great to connect with our audience (live video is ideal for this).
In case you missed it, here are the questions that were asked using #AskTuminds beforehand or submitted during the live video.
Social Media Q&A Live
Should I post on social media just now or not?
Yes! It's important to stay connected to your customers and keep the conversation going. As people are spending more time online (there is a 20% increase in app use) it is a good idea to be visible on social media. Another reason to keep your channels active is from an algorithm perspective; the platforms don't want you to vanish for months. Therefore, in terms of a long-term strategy you need to make sure you're maintaining your online presence in some way. Then when things return to normal and you want to promote your products/services, you're not starting from scratch.
We talked about businesses making the most of digital opportunities such as selling courses online and ecommerce, and looked at Simpsons Garden Centre in Inverness as an example. They have recently opened an online shop and will also be delivering within Inverness.
What kind of content should I be posting?
You need to be careful about not being too salesy – but if you have a product that there is a demand for and you have an online store, it is important to keep selling and promoting your products. (Just try to tone the sales message down a bit and go more along the lines of offering something helpful in the current climate).
"You don't want to be pushing inappropriate or insensitive content – yet, at the same time, the economic impacts of the COVID-19 shutdowns will only be exacerbated by more businesses pulling back, and losing revenue as a result." (Social Media Today, https://www.socialmediatoday.com/news/snapchat-provides-tips-for-brands-looking-to-connect-with-their-audiences-a/575476/).
It is a time for helping and providing valuable content. How can you help and support your audience? What can you offer at this time of crisis?
For example: tips and advice; free access to resources; entertaining content that provides some distraction (we used the example of a recent Tuminds post on Facebook about Googling animals to view in 3D, which received a lot of engagement); raising awareness of local causes/initiatives, and supporting local businesses. We gave the example of sharing content from businesses who are helping other businesses or providing a delivery service etc.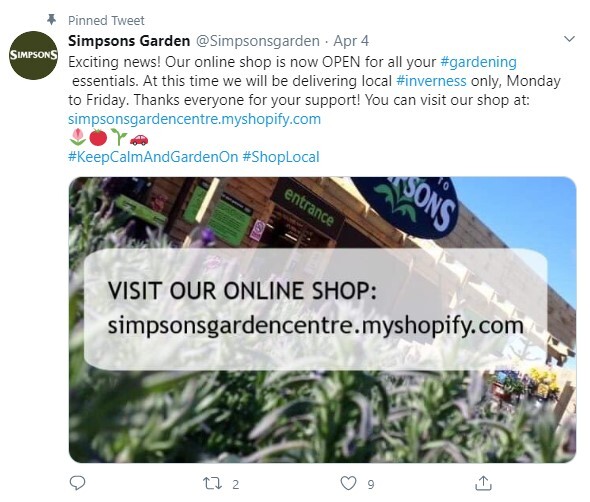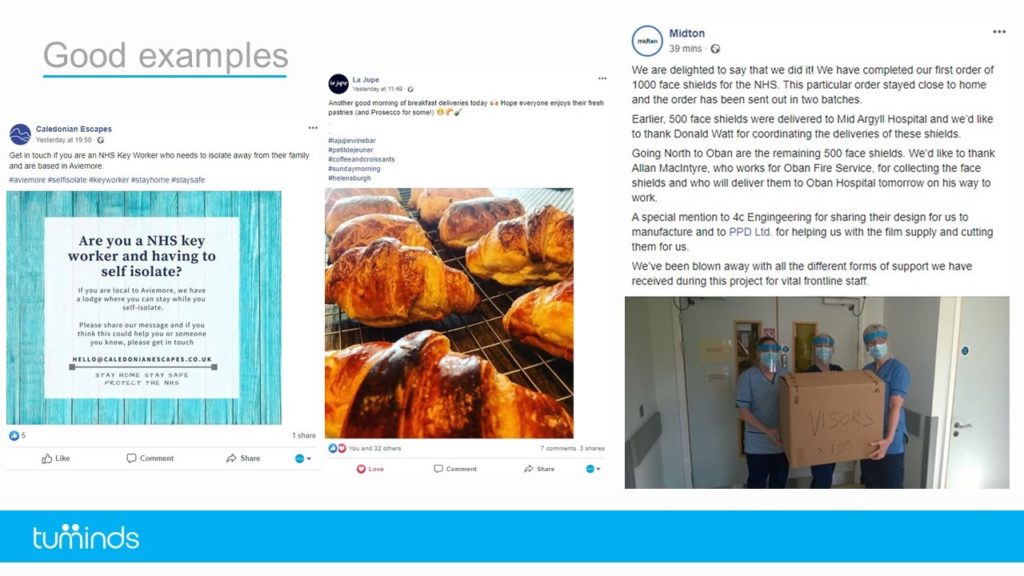 We referenced these recent articles with tips on connecting with your audience:
I work for VisitDornoch and I am wondering where to pitch our social media? We don't want to directly promote the area as no one can come at the moment, but equally want to keep Dornoch in people's minds.
Before we could answer this question during the video, two viewers shared their thoughts, which we completely agreed with. One was to share content from local businesses, such as galleries, craft shops, cafes etc, and the other was to look at VisitScotland's social media as an example of how to keep that engagement going, with inspirational and emotive posts such as this recent video. We have also seen posts using the hashtag #DreamNowTravelLater on Instagram and Twitter.
We also mentioned that VisitScotland has provided very useful advice for tourism businesses on sharing content during COVID-19.
What is the best app to stay in touch with people?
We suggest trying out the different apps and seeing which you prefer. We use Zoom for our daily meetings and we used it to livestream to Facebook (you can also livestream to YouTube). One of the questions left in the comments of the video was about the security issues of Zoom. Indeed, Zoom has been in the news lately regarding security risks and sharing data to Facebook. When you're having Zoom meetings where personally identifiable information or confidential business data is shared, we would recommend looking for an alternative video calling tool. In this excellent article by The Guardian some alternatives are reviewed, such as StarLeaf which is used by NHS Trusts in the UK: https://www.theguardian.com/technology/2020/apr/08/zoom-privacy-video-chat-alternatives.
We have also used Whereby and Google Hangouts, but there is also Skype, of course. For video calls with family and friends we mentioned WhatsApp, Facebook Messenger, Houseparty and the new Instagram new video calling feature.
How do you repost on Instagram?
Even if you encourage people to use your branded hashtag in their photos, we would always advise asking for permission before sharing someone else's photo. You can either use a 3rd part app to repost an image, such as Repost for Instagram, or take a screenshot of the image and then resize it before sharing (I prefer the latter to avoid the black bar across the bottom of the image). Whichever you do you need to credit the owner of the photo by tagging them (i.e. image by @example). This blog post goes into step by step detail on three repost apps and also the screenshot option: https://blog.hubspot.com/marketing/how-to-repost-on-instagram.
In terms of sharing images in Instagram Stories, we would advise that you tag the person who created the post.
How would you use social media to communicate that your business might fold as there are no sales? Would creating a campaign asking for help be good?
Yes, it is definitely a good idea to ask for help, now is the time for the community to help local businesses. You could create messages that ask people for their support, perhaps encouraging people to buy gift vouchers that can be used when this is over and explaining that this would help your business to survive this incredibly difficult period. Or for accommodation providers, encouraging people not to cancel their booking or deposits, but plan to come at a later date.
I tried Facebook adverts but had negligible results or sales… any tips or pointers please?
Facebook advertising can be an effective tool to reach a lot of customers, but if not used correctly you can spend a lot of money and not see any results. It all depends on the targeting of your customers and the biggest mistake that people can make is to target too wide an audience. You need to really go niche with your detailed targeting and target an audience of 2,000 people or less. If you put too many interests in the detailed targeting you will dilute the audience; instead type in one or two interests and then narrow the audience. For example, if you were selling educational toys you could target parents with children of a specific age, then narrow with an interest in educational toys. This could be narrowed further to engaged shoppers.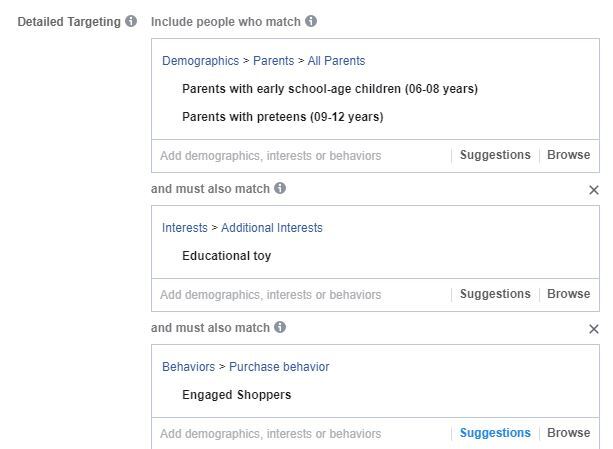 Also make sure you are not targeting the whole of the UK but choose a specific area. You can target by postcode, for example. The more you know about your customers, the better you can target them on Facebook. You should create different adverts to target your different audiences.
These links may help:
https://www.facebook.com/business/ads-guide
https://blog.hootsuite.com/how-to-advertise-on-facebook/
What is the best platform to create a website for my community project?
There are a number of website builders available, such as Weebly, Wix and SquareSpace (you don't need any technical knowledge to use these as they are more drag and drop editors). If you have some technical knowledge, there is also WordPress. It depends on whether you want a free website or invest in the site, and if there's any functions or features you'd like it to have. Most of the platforms have a free package and then different tiered paid options. If you're looking for a community online store, for example, you would probably have to spend some money on this.
Do you have any tips for increasing activity on Twitter?
Use hashtags (2-3 at the most) to make your tweets visible to the right audience; add eye-catching visuals to tweets (image, video or GIF); mention other people in tweets to increase visibility; and actively engage with other accounts instead of just hoping people find your content.
If you're sharing useful/interesting content, you'll get more engagement and reach (this applies to all the platforms).
How do I sell products on Instagram?
You can set up Shopping on Instagram if you have a catalogue of products on your Facebook page shop, an Instagram business account, your Facebook page is connected to your Instagram account and your business complies with their commerce policies.
You first need to connect your Facebook catalogue to your Instagram business account. Choose the ecommerce catalogue you want to connect in the Cataglog Manager and follow the steps (https://www.facebook.com/products). You then need to log in to Instagram, go to Business in your profile settings and then 'Instagram Shopping'. Follow the steps for your account to be approved (it can take a few days) and once it has been approved go to Shopping in your settings to complete the setup.
Once you've done all that you can start tagging your products in your posts and Stories so that when people tap on the shopping bag icon on your post it will show a description and price, and they can click through to view the product on your website. You can have up to five tags per post and one per Story.
https://www.facebook.com/business/instagram/shopping/guide
https://help.instagram.com/1108695469241257
https://www.oberlo.co.uk/blog/setting-up-instagram-shop
Is it possible for a Facebook shop PayPal payment to include a reference number or identify which product has been purchased when the price is the same? (I have had problems knowing which magazine to send out and new kits will be the same price but different designs).
This question was submitted by a previous client who uses PayPal.Me (https://www.paypal.me/). This is an easy way to sell your products if you don't have an ecommerce site. In this case, when customers were buying one of the magazines, the shop owner couldn't identify which one it was as they are all the same price. When setting up the PayPal.Me link there is a section at the bottom that says 'More about' so the owner in this case could add a note to customers saying: "Please add the reference number in the notes when ordering one of our magazines".
Social Media Updates
We also shared some updates during the video:
Thank you to everyone who tuned in for our first #AskTuminds live Q&A. We hope that this was helpful during this difficult time.
If you have any social media questions you'd like us to answer next time leave them in the comments below. See you on Tuesday 14th April at 3pm for our next live Q&A!