New Facebook: What You Need to Know
If you manage a Facebook page then this probably won't be news to you: Facebook has had a redesign. It was announced last year that Facebook would be rolling out a new interface and it's here. But don't worry, we are here to guide you through what's new! We went live on our Facebook page to talk through the changes, which we've summarised here in case you missed it.
Facebook Page Layout
The new layout is very white (although there is now the option to switch to dark mode). Notifications, Inbox, Settings, Insights etc are now down the left-hand side of the page. We noted the addition of Resources & Tools to this section which links to handy business resources.
One of the the first things we noticed was that the video on our cover photo was no longer the right size, with two big bars down the side. The dimensions for cover photos is now be 2050 x 780 and for videos it's 1280 x 720. To edit your videos for the new dimensions we suggested Kapwing and clideo, and Canva for a Facebook cover image template.
See Pages Feed
There used to be the option to 'See pages feed' which gave you a news feed with updates from the pages you like as your page (we always advise liking and commenting on other posts as your business as a way of raising brand awareness, and this was an easy way to find content to engage with). This has now disappeared but we came across an article that offered a work-around solution – type '/news_feed' after your Facebook page URL (i.e. https://www.facebook.com/Tuminds/news_feed).
Facebook Live
Now when you click on Live under Create Post you have the option to choose how you set up the live video (use stream key, use camera or use paired encoder). You can add a video title and description on the left-hand side. What has changed – which we LOVE – is that you can now schedule a live video. This creates a post on your page with a 'get reminder' option so people are notified when you are going live. (We particularly liked the countdown!). This disappears after the live.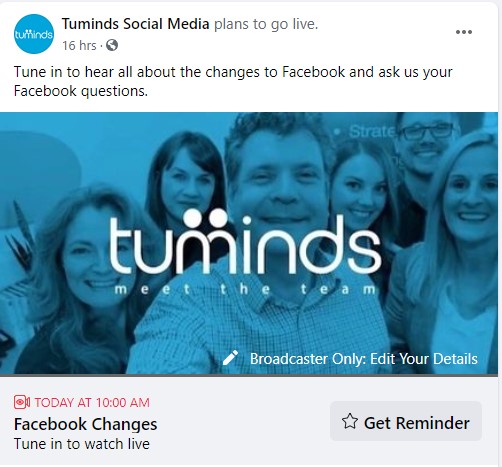 As we went live through Zoom we weren't able to test it out but there is also now the option to create a poll during the live, so you can ask your audience something and instantly see their feedback.
Another new feature is the ability to create a clip of highlights at the end. We love this idea as it would enable you to share a snippet of the live session on your other channels.
Advertising
From your business page you can click on Ad Centre (down the left-hand side) to go to a more simplified version of Facebook ads. There are a number of goals: get more website visitors, boost a post, boost an Instagram post, get more leads, get more messages, promote your page or promote your business locally. (You can boost a post here or the same as before, by clicking on the blue 'Boost Post' button under your post). You then create your ad and select your audience (you can't narrow the audience and there are no Suggestions).
To create an ad the way you used to in 'old Facebook', you can go to Ads Manager in Facebook Business Manager. It's exactly as it was before when you clicked Create and then Ad. If you want to narrow your audience, see Suggestions for interests, demographics and behaviours (based on your search queries), use Custom or Lookalike Audiences, or create carousel ads this all has to be done in Ads Manager.
What we think
We feel that the changes to advertising – although confusing at first! – are positive changes. The simplified version from the business page Ad Centre should help people who are just starting out with advertising to get to grips with it.
Someone in the live commented on problems with scheduling posts in new Facebook. If you're having any issues with posting or scheduling to your Facebook page we recommend trying Creator Studio.
Yes, there will be some things that have been lost with the new interface but there are some positive additions, such as with Facebook Live. As with any change, we think it will just take some time to get used to the new layout.
What do you think of the changes to Facebook? Do you have any questions or comments? Leave them below!