What is ChatGPT and How Can It Help Your Business?
In recent months, triggered by the launch of ChatGPT by OpenAI in November 2022, the interest in AI seems to have exploded. There have of course been AI (Artificial Intelligence) tools around for a while but making ChatGPT free for everyone to try, and its ability to write everything from blog posts to poetry (in a very human-like way) has really put it centre stage. ChatGPT was followed by the addition of the Magic Write feature in Canva in December 2022 and earlier this week there came the annoucement of Google's alternative AI tool, Bard (which didn't get off to the greatest start). There are also tools for image generation from text prompts, such as DALL-E 2. If you haven't already, it's time to take notice – AI tools are here to change the way we research and create content.
What is ChatGPT?
ChatGPT is a chatbot by OpenAI that can write text based on your question or statement, and answer follow-up questions, taking its information from data on the web. One of the key things to remember, however, is that it doesn't have any data after 2021. Another key point is that, as it's pulling information from a range of sources on the web, it might not be factually correct – so it is important to check that the information is accurate.
It is truly incredible how quickly it can generate text, and how human-like the responses are, and that it can write everything from poems to email subject lines. It is currently free but they have recently announced a paid ChatGPT Plus version. Here is a ChatGPT definition of ChatGPT:
ChatGPT is an AI-powered language model developed by OpenAI. It uses advanced machine learning algorithms to generate human-like responses to natural language inputs, such as questions and statements.
So you can type in a question, such as "What is ChatGPT and how can it help small business owners?" and it takes seconds to write a response. (Yes I could have copied its response into this blog post). Which brings us onto the next point…
What about copyright and SEO (Search Engine Optimisation)?
Obviously it can write website copy and blog posts but whether you should copy and paste the text it generates onto your website is a whole other question. We would suggest not. It is an amazing resource to gather information but nothing replaces the human touch. Yet as a tool to get ideas for blog posts, and even outlines of posts, it is brilliant. With regards to copyright, technically AI generated text is copyright free but, as a note of caution, this apppears to be quite a grey area.
And what about Google? One of the biggest questions seems to be whether it would have a negative impact in terms of SEO if you were to use AI generated text. Google initially said that AI generated content was against its search guidelines and then two days ago revised the guidance on AI generated content saying: "Appropriate use of AI or automation is not against our guidelines". (This only highlights for me how head-spinningly fast-paced this whole area is). Despite this, we would stick with our original advice of not copying and pasting the text directly into a blog post, for example, but using it as a way to generate the skeleton of a post that you can add the 'flesh' to by editing and adding your own touches/personality.
Our advice is to use ChatGPT for research and inspiration – it's a fast, easy way to generate content ideas for blog posts, videos and social media posts.
How can it help my business?
For small business owners a tool like ChatGPT offers a range of opportunities, including, as mentioned above, the ability to gather content ideas and inspiration. As an example, I asked ChatGPT to give me a list of social media post ideas for a small business selling handmade candles and it generated 10 (very good!) ideas. I could then go back and ask it to expand on number 3 or write a post for Facebook on number 10. The more detailed the question or statement, the better the results will be.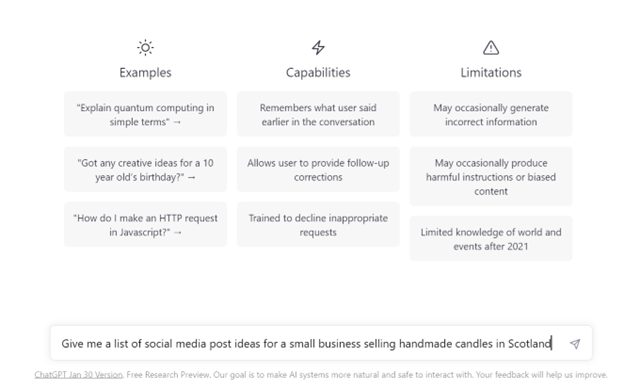 ChatGPT can also be used to find out more about your audience. For example, I could ask it to tell me the most common social media questions that small business owners have and use this as a bank of content ideas. As we always say, the more you know about your audience (their needs/interests/questions/pain points), the easier it is to create content that will engage them.
For busy business owners ChatGPT is a brilliant, time-saving tool. Just remember to use it as inspiration and add your own voice to any generated text.
To learn more about how ChatGPT and AI tools can help your small business register for our free 30-minute ChatGPT Q&A webinar.