What is Meta Verified?
Towards the end of February, Mark Zuckerberg shared a new feature coming to Instagram and Facebook users called Meta Verified aimed at helping creators "establish and grow [a] presence on Instagram and Facebook."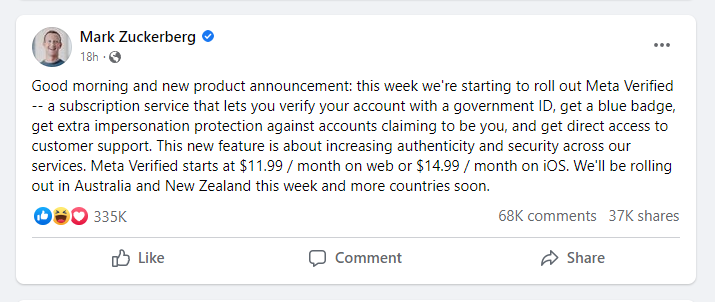 And it will come with perks like:
Impersonation Monitoring: Account monitoring to target impersonators.
Verification Badge: Account authentication with a government ID upon subscribing.
Reach & Visibility: Increased exposure in search, comments, and recommendations.
Live Chat Customer Support: Access to real-time customer support.
Exclusive Features: Stickers on Facebook and Instagram Stories — plus Facebook Reels.
Meta Verified is a paid subscription service (more details on the price are below) that provides users with access to live chat support, increased visibility, and the highly sought-after blue checkmark on Instagram and Facebook.
To authenticate an account via Meta Verified, the creator must be at least 18 years old and use a government-issued ID to confirm that their picture and name match their Meta profile.
---
Who has access to Meta Verified?
Meta Verified is currently only being tested in Australia and New Zealand. (March 2023)
To be eligible, you must:
Be at least 18 years old
Have a profile associated with your full name and a profile picture that includes your face
Have a government-issued ID that matches your name and picture
Have two-factor authentication set up
Meet minimum activity requirements, such as prior posting history
At the time of writing, business profiles are not eligible for Meta Verified.
---
How much does Meta Verified cost?
Meta Verified costs $11.99 (USD) per month on the web, and $14.99 (USD) a month on iOS and Android systems. Yes, that's two different payment prices for different forms of live support accessibility.
---
How does the Government ID Authentication work?
Creators must authenticate their account via government ID to verify that their picture and name match their Meta profile. Until Meta Verified is rolled out across additional countries it is unknown as to which specific forms of identification will be required here in the UK.
---
What about Creators who use a different Username for their Accounts?
According to Meta: "At this time, Meta Verified will only support your real name on your profile. Once your profile is verified, you can't change the profile name, username, date of birth, or photo on your profile without going through the Meta Verified subscription and verifications application process again."
---
What about Accounts that are already Verified?
Meta says there will be no changes made to this type of account, which they are classifying as "legacy".
---
How to become Meta Verified.
At present, you can join the verification waiting list on the official meta website. Signing up will also allow you to get additional information on when Meta Verified is available within your region.
---
Will you be Meta Verified?
Given the prevalence of fake accounts and bots on social media, having a fast and reliable customer support system along with a verification process is crucial. However, it remains to be seen if users will be willing to pay for these services.
Let us know in the comments below what you think of Meta Verified.
---