How to Improve your Website Ranking on Google
A Guide to Search Engine Optimisation (SEO) for Beginners
If you're wondering how to drive more traffic to your website, Search Engine Optimisation (SEO) is the key. In this blog post we look at the 7 key things you need to do to improve your ranking in Google search results and increase organic (unpaid) traffic to your website.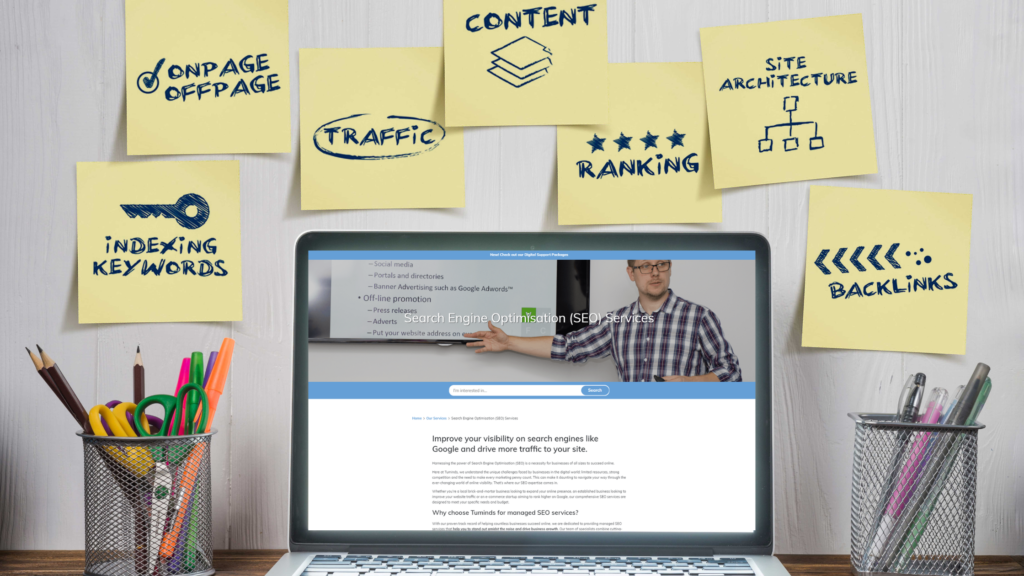 What is Search Engine Optimisation?
Search Engine Optimisation, known as SEO, is the process of making your website more visible on search engines like Google. Essentially, it is trying to ensure that when someone is searching online for your products or services, your website shows up high in the search results. This increased visibility helps to attract more organic traffic to your site, which then boosts your online presence.
7 Ways to Improve your Ranking on Google
Keyword Research
Keyword research is the foundation of SEO. Start by identifying the keywords relevant to your business and industry.
What words and phrases do you think your target customer is using in search to find your products or services?
Use keyword research tools like Google Keyword Planner (note that you need a Google Ads account) and Answer the Public to find high-traffic keywords with moderate competition. These keywords should be the building blocks of your SEO strategy.
Review the keywords on a regular basis.
On-Page Optimisation
On-page optimisation is all about creating SEO-friendly content. Try to use your chosen keywords naturally in the pages, titles, headings and meta descriptions of your website. This helps search engines to understand how relevant your content is to search queries and rank it accordingly. (Our SEO audit will identify areas for improvement).
Every page should have a different title and meta description related to that page. These should be eye-catching and informative, and make people want to click through to your site. (They are the first things people see when they're searching on Google).
It is best to keep titles between 30-60 characters and include a keyword.
Meta descriptions should be less than 300 characters in length and include keywords once.
Headings help search engines understand your content and make it easier for people to read. Make sure each page has an H1 tag that includes a keyword that is relevant to that page. There should only be one H1 per page, but you can have multiple H2s.
Image optimisation is important – add keywords to the alt text of images.
Technical SEO
Technical SEO focuses on optimising the backend of your website. A well-optimised website improves the user experience and tells search engines that your site is trustworthy.
Make sure that your site is mobile-responsive (looks good and works well on a mobile phone), has fast loading times and is easy to navigate. (Technical SEO is something we walk you through in our SEO training).
Link Building
Link building helps to build authority and credibility.
Develop a solid backlink strategy. Try to find opportunities to earn backlinks from reputable websites in your industry.
These links act as votes of confidence for your site, telling search engines that your content is valuable and authoritative.
Local SEO
For brick-and-mortar businesses, local SEO can really help to connect with nearby customers.
Make sure you claim and manage your Google Business Profile.
Encourage customer reviews and ensure your business information is consistent across online directories and sites.
If you're optimising your site for local search, don't forget to include geographic locations in your keywords.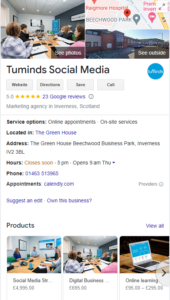 Content Marketing
Content plays a BIG role in SEO. Aim to create fresh content regularly that is engaging and valuable to your audience. (Not sure what to post? Have a look at some content ideas here).
This could include blog posts, videos, infographics and more.
Engaging content keeps visitors coming back to your site and attracts shares and links from other websites. Plus Google loves in-depth content.
Monitor, Analyse, Adapt
SEO is an ongoing process that you need to keep on top of if you want to stay at the top of the search results.
Make use of tools like Google Analytics and Google Search Console to monitor the performance of your website.
Analyse the data to identify what's working well and what needs improvement. Then adapt your strategy accordingly.
SEO success takes time, patience and consistency. If you work on the points mentioned in this blog post, you can improve your website's search visibility over time, improve your rankings on search engines like Google and increase organic traffic to your website!
Alternatively, contact us to find out how we can help with your SEO through our managed services and SEO training.