If there are multiple Facebook Pages representing your business on Facebook, it is recommended you merge them all into one to avoid confusing your online visitors. Merging all Facebook Pages also combines the likes and check-ins of all into one Page.
It is important to note that the Page(s) you choose to delete will not keep its content such as posts, photos and name. Also, the Page(s) you merge must be about the same thing.
Examples of acceptable merge requests:
"Jane Smith BodyArt" into "Jane Smith Body Art"
"Chris' Cupcakes – Austin" into "Chris' Cupcakes"
Examples of merge requests that require a 7-day waiting period:
"The Spa at Hotel" into "Hotel"
"Facebook" into "Facebook Chat"
"Sheryl Cooper" into "Sheryl Cooper's Accounting Service"
Examples of merge requests that can't be processed:
"Fans of Facebook" into "Facebook"
Facebook has made merging 2 Pages very accessible for administrators through these steps:
1. Go to 'Request to Merge Your Duplicate Pages'
2. Select the Page you want to keep from the first drop-down menu


3. Tick the following statement to confirm your acknowledgement

4. You can merge up to 5 Pages you manage into your destination Page. Use the drop-down menus to select the Pages you would like to merge.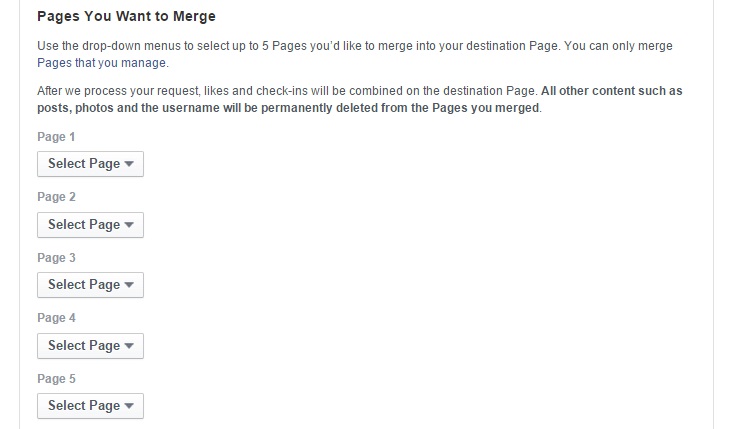 5. Click on 'Send' to submit your request
Courtesy of Facebook Desktop Help: https://www.facebook.com/help/contact/476570305747577
You might have Snapchat downloaded on your phone but you're probably unsure of how it works, and you most definitely won't be using it as a marketing tool for your business. Snapchat is a photo and video sharing social media phone application. It allows for sharing instant visual content that only lasts for a limited time period (from 1 to 10 seconds).
Quick and visual platforms have gained popularity amongst young mobile users in recent years whilst Facebook witnessed a dramatic drop in activity from young users. Snaps have an incredible 70%-90% opening rate and the platform has over 200 million monthly active users – almost matching Twitter's 288 million mobile users. Therefore, it is crucial to stop ignoring the power of the snap, especially if you have a young target audience. The quirky platform should not however substitute your other marketing efforts, but rather be added to the mix.
How Snapchat can be used to promote a business is the where the challenge lies. The content needs to be fresh and creative to fit in with the culture. These are some ways of how to snap for your business:
Communicate exclusive promotional codes: brands from the Co-op to Burger King have sent promotional codes exclusively on the platform, especially targeting students.
Live feed from events: as a snap has a limited life span, it makes streaming events simultaneously authentic for those who couldn't attend. Some snap stories gets more views than episodes of some popular TV shows.
Showcase sneak peaks of new products or product lines.
Introduce new team members: including staff in your Snapchat content adds a glimpse of what happens behind-the-scences.
Recruitment. Yes, recruitment! Likeable Media have included Snapchat in their application process by encouraging applicants to send the company a creative snap about themselves.
Personally, I was reluctant to use Snapchat at first because I couldn't navigate around the app and didn't understand the buzz. However now that I am an active user, it is one of my favourite platforms. Tuminds has also recently joined Snapchat, so do follow our cake journeys on Snapchat – username: Tuminds
You have probably heard of Google+ and you may even have set up your own profile. How often do you use it? I would guess that for most of Tuminds' circle (to use a Google+ term), the answer is almost never.
Google+ suffers from a poor reputation. It didn't take off in the way that industry experts expected when it was launched, and despite having an estimated one billion registered users, recent research suggests
that few of these are active and engaged. This certainly resonates with me: almost everyone I know is on Facebook, some are on Twitter and almost none are on Google+.
But! We definitely think that there is benefit in having a Google+ account for business. It sits nicely in between Facebook and Twitter as a place to connect with strangers and have in-depth discussions about common passions. This blog will explore why you should be on Google+, how to use it, and examples of best practice.
Why use Google+ for business?
The main reason is SEO. Google accounts for 67% of all search engine traffic so you should do everything you can to help it find your website. Having an active Google+ account is just one of the factors that will help improve your Google ranking. The most important thing, even if you're not posting regularly, is to make sure that your Google+ account is properly set up with all the relevant fields filled in. These include location, region covered, opening hours, contact details and a business summary.
The good news is that Google has a business service, Google My Business, which is directly connected to Google+, so you only have to fill in the information in one place. If your Google My Business page is properly optimised and contains all of the information for your business, this can help your company appear higher in search results.
Google offers a single log-in across all of its services, so you only have to log in once to use Google My Business, Google+, YouTube (owned by Google), Gmail and Maps.
How to use it
At the most basic level, you should be posting content that you're already posting to other platforms on Google+. If you already use a social media management tool such as Hootsuite or Hubspot, doing this won't seem like a big time commitment.
Get your custom URL. As on Facebook, Google+ will allow business to customise their URL (e.g. instead of plus.google.com/957312962 we could have plus.google.com/tumindssocialmedia ). To claim your custom URL, go to your Google+ page, and check if there's a link allowing you to do it under 'About'. If there's no link it means your page isn't eligible yet. Your page needs to be in good standing and must be linked to your website.
Add links for your other social profiles to your Google+ company description. While you're there, make sure that you have filled in your tagline and company description. Use keywords.
When you post in Google+, the first 45-50 words are what become the post title in Google Search. Think of them as a title and make sure they're relevant to the rest of the post and your business' services.
Use images. Google+ is very suited to posting lots of visuals thanks to its wide, open layout. Unlike most other platforms, it also supports animated GIFs which will stand out among other videos that will only play at the press of a button.
Google+ has other features that are useful for business in general and brands in particular. Google Hangouts is one of these, which we will cover in a future separate blog.
Best practice
There are a few (big) businesses doing a great job of using their Google+ profiles to connect with their followers, including Toyota and Cadbury. Smaller businesses with smaller budgets won't be able to embrace all of these tactics, but they're a good place to look for inspiration. Your key Google+ takeaways should be: get your profile admin up-to-date and tie it up with what you're posting on other social media platforms.
—
Tuminds covers Google+ in its bespoke training sessions and group workshops, and we also provide Google+ support and management on an ongoing basis.
What are they?
A hashtag is basically a keyword: a way of summarising your social media post. This lets other people that are interested in that subject find your posts. The # symbol is simply a way of alerting people to the fact that your keyword is coming next. We might use the hashtags #socialmediamarketing, #socialmediatraining or #howtutuesdays.
Where are they?
Hashtags were born on Twitter in 2007 but live on several platforms now. The main ones to understand are Instagram, Facebook, Google+ and Pinterest. Here's a quick guide to using them on each of these platforms.
 Twitter: The home of hashtags. Hashtags are mainly used on Twitter to let people converse about a certain subject. You can join in with popular conversations using the Trends box on the left hand side of your Twitter page. Trending hashtags at the time of writing this blog include #thewalkingdead and #GalaxyS6edge.
Instagram: It's acceptable on Instagram to use multiple hashtags to describe your photos. People do, so you can filter by almost any term and find related images.
Facebook: Hashtags have been creeping into Facebook since 2013, but they haven't proved as popular as on Twitter. One or two per post is enough on this platform.
Google+: Google+ will suggest hashtags for you as you write your post, but you can edit or change these if they're not correct.
How can you use them for your business?
There are a couple ways that we advise clients to use hashtags in their business social media communications.
1. Create a hashtag to start a conversation
When creating a hashtag, check first to make sure it hasn't been taken. You want something relevant, targeted and unique. Make it easy to spell and easy to remember so that people can type it without checking that it's correct. There should be no spaces between words.
Long hashtags with multiple words are often used to add humour to a tweet or post e.g. #cantwaituntilFriday or #firstworldproblems. But, generally speaking, we would advise companies against this. Keep hashtags professional and relevant to your business.
Creating a hashtag is a great way to promote an event that you're running or a new product. If you do it right, and have a lot of luck on your side, your hashtag will start trending among your circle of followers.
2. Use existing hashtags to promote your company
You can search for hashtags, particularly on Twitter, that are relevant to your business or your industry, and jump into the conversation. This is a great way to showcase your expertise and add value to other people's conversations. Has someone asked a question that you can answer? Are people debating a subject that your business is an expert in? A word of warning however: don't make these tweets sales focused. The aim is to converse rather than lecture or sell.
—
If you want to know more about using hashtags for business, get in touch with Tuminds.
It's a renowned fact that Pinterest is addictive. Whether you are looking for creative ways to reuse that empty jam jar or inspiration to update your living room, spending 2-4 continuous hours scrolling from one photo to another has become common modern day behaviour. So since it's easy for people to spend a lot of time on Pinterest, targeting a niche audience on there can be a great source of traffic to your website. My colleague Rachael wrote a great blog post explaining the benefits of pinning for business, here.
The real opportunity with Pinterest, however, lies in the power of others spreading your content for you. The chrome app 'Pin-It Button' makes  it accessible for anyone on your website to Pin your content onto their own Pinterest boards. Whilst it is great to support this feature that allows people to share your content with their communities, it is vital to keep a track of that activity to maximise the benefit. This will give you the necessary insight on the behaviour and interests of your prospects and customers.
How to find out who has Pinned content from your website? Simple:
on your browser start by typing  

www.pinterest.com/source/

then add in the name of the website without the 'www.' at the end of it – i.e. /

tuminds.com
You will land on a page with a list of images that have been pinned from the chosen website.
This can be applied to any website in your industry or area. For example if you are in the Scottish tourism industry you may want to know what people are pinning from a high traffic website like VisitScotland. You can also try it out with your competitor's website if you want, they'll never find out!
We all know that LinkedIn is one of the best business networking tools. It allows you to keep business relationships alive for years and enables you to find new ones easily. Growing your network is crucial to maximise the benefit of your LinkedIn profile. However sometimes the invitations you receive can seem suspicious.
Have you received an odd LinkedIn invitation from a person in a senior position that you have no mutual connections with, who lives in a foreign country and is from completely different industry to yours and wondered why is that person wanting to connect with me? If the answer is yes, then that's most likely a false profile and you are advised not to accept the invitation right away.
There are many reasons why people or companies create 'fake accounts'. Mainly they are interested in connecting with you for your data; your employment history, your email address or your general activity and connection list.
Even though I haven't experienced too many of these 'fake' invitations on LinkedIn myself, they still exist and LinkedIn has yet to find a better way of detecting them. So ultimately it's up to you to spot the fake accounts from the legitimate ones.
These are some things to look at and do before accepting that suspicious invitation you received:
Do a reverse image search across the internet using Google images to detect if the same image has been used for other identities
Look out if the person inviting you has limited personal and professional information on their profile
The country, city or area they state they're from is not close or relevant to where you are
You notice that there is no relationship between your industry and theirs
They have no mutual connections with you
Their email address is generic and does not match up with their personal or professional information listed on the profile
The person has very few connections (less than 20) or too many connections (500+)
Once you have clarified that the invitation you received is not authentic, there are a couple things you can do to help reduce the number of these spam invitations:
Contact LinkedIn customer service and explain your suspicions
Follow LinkedIn's False Profile Policy that advises to flag or report false accounts
Google Analytics is a free tool that lets you track visits to your website. It can give you a wealth of information about your website's users and how they are interacting with your content, but be warned: Analytics can be overwhelming due to the huge amount of information available. This has never been truer as the service is becoming increasingly sophisticated and there are ever more ways to segment and filter your data.
However, it is worth persevering, as knowing how your website is working for your customers is the first step towards ensuring that you've got the best site around. More often than not we invest a huge amount of time (and sometimes a huge amount of money) in our websites. Having a grasp of the basics of Analytics will help you keep on top of your site and might even give you surprising insights about your customers.
Here are our top tips on getting started.
Getting set up
To get started with Google Analytics, you need a Gmail address. Simply log in to www.google.co.uk/analytics using your usual password or set up a new account and add your website address.
To start tracking visits, you will need to paste code provided by the service into each page of your website. There is some information on how to do this in Google Analytics – Admin – Tracking Info, but if you're not sure, ask the person that built your website to add it for you.
Decide what's important
Before you jump into Analytics, decide what it is you need to know. Do you want to know how many returning users you have, and how many of those make a purchase? Or how many people end up on your contact page before leaving your website? Is it important to determine which page most people are landing on, or how they got to your website in the first place?
Setting goals will make the next part of your journey on Google Analytics much easier, and help avoid wasted hours looking at data with no focus.
Set the right date range
The first thing you should do every time you log into Analytics is check the date range on the top right of the screen. You can choose any date range you like, and you can also compare data across two date ranges.
The other thing to check is how your data is being displayed – hourly or by the day, week or month.
Hone in on the right information
Now you've set your goals, you know what you're looking for when you log in.  Google Analytics can be split up into four sections.
Audience
This section gives you information about the people that are using your website. It includes things like users' locations, language, browser type, device and gender. The default view shows you the data for all website visitors. At the top of the screen you can add segments which is useful for comparing different audience groups. Check how many people are viewing your website on a tablet or mobile. Is your site easily accessible from these devices?
Acquisition
The acquisition section will tell you how people found your website – by organic search such as Google or Bing, by directly typing in your web address, through referrals or links from other sites, through social media or by links from an email. If you have tried advertising via Google Adwords and you have linked your Adwords and Analytics accounts, you'll see your click-through statistics in this section.
Behaviour
The behaviour section will tell you about your customers' journeys on your website. You can find out which pages are the most common landing pages, and which other pages are visited after that. It's useful to look at your page bounce rate, which is the percentage of people that left your site from that page. You would expect to have a high bounce rate on your contact details page, but a high bounce rate on your homepage could be a warning that your site isn't working for users.
Conversion
This fourth section is useful if you want to set goals and track progress, for example, if you want to see if 10% of new website users download your eBook. Use of the Conversion section is quite advanced, so it's best to concentrate on the first three sections if you're just starting out.
Put the data to work
It's easy to get excited when you start using Google Analytics, exclaiming about the fact that 20 people looked at your website the previous day, or being amazed that someone in Uruguay viewed your product page. The key is to go back to your goals, focus on one or two metrics that you want to improve, and brainstorm ways that you can achieve this. It might mean restructuring your site, shortening the buying process or adding more copy. Once you've made the changes, track your Analytics data over the following weeks and see how your statistics are affected. Don't be afraid of trial and error!
Facebook has become an inevitable marketing tool for businesses across all industries. Facebook's billion+ users are actively connecting with friends and family. That manifests the power of word-of-mouth and friend referral on the social media platform.
It is important to remember however that using Facebook personally is completely different to using it for your business. The check-list below should help you ensure you have the fundamentals for a successful Facebook business page .
Set up a complete page
The journey starts with a business page. Create a page that has information about the business and a link to the website as well as a location map. Make sure your page has a unique web address that is also easy to read and remember to make it easily findable.
Follow Facebook's step-by-step instructions here to create a page.
As your Facebook represents your business like your website does, it is very important to keep your branding consistent throughout. Use the profile image to upload your company logo (size: 180×180 pixels). Your profile picture should not change unless your branding has. It should appear next to your business name whenever you comment or like other posts representing your business's visual identity.
Your cover photo on the hand may be changed as often as you (size: 851×315 pixels). This is a great way to entertain the people visiting your page and attracting their attention to a specific message or promotion.
Identify your audience
In order to achieve a high number of valuable likes, you need to know who your target customer is. By identifying your target audience, you will be able to decide the tone and content you want to share.  It is important to remember that it isn't about the number of likes but the amount of right likes.
Engage with your audience by sharing what will interest them and interacting with them using the right tone.
Share the right content
Sharing content on Facebook is easier than other platforms like Twitter (that limits the number of characters of a post) or Pinterest (that is image based). You can post company news and updates, behind the scene photos and product promotions. Remember to post things that your audience will find most interesting and inspiring.
Just like sales in the real world, building a relationship is key rather than going for the 'hard sales' approach. It's important to be honest, consistent and responsive with posts to ensure maximum interactions and likeability.
Reach a larger audience by advertising
Even though the originality of your content has the potential to make your brand go viral online, it is actually very difficult for the average company to reach a wide audience without advertising. With the competition being very high, Facebook ads help you send the right message to the right people. You can use the ad create tool to target ads to a certain audience with a specific gender, age group and interests.
Analyse
As with any business and marketing strategy, continuous assessment and analysis is very important. Facebook offers detailed, yet very user-friendly, tools for business page holders to get page-insights. Through the 'Page Insights' tool you can see the best-performing content, the audience your page is reaching and who is engaging with your page the most.
This performance indicator is a great measurement tool for your business. It will help you know more about your customers and market. This constant evaluation should also give you insight into what to do more of and what to do less of on Facebook to maximise its benefits.
Courtesy of Facebook for Business: https://www.facebook.com/business/overview
Whether your organisation has a social media presence or not, your employees will mostly likely do. Therefore having a social media policy or social media guidelines is essential for every organisation that wants to control their online reputation.
Defining how social media will be used for your organisation and deciding who is going to be responsible for the activity are key parts of your overall social media and marketing strategy (explained in more by Rachael here).
However putting rules in place will avoid confusion about what can and cannot be posted. Easy-to-follow social media guidelines on what is permissible is also more likely to encourage employees to participate online. Unfortunately there isn't a social media policy template that fits all. As every business is different, every policy will be different. It is important to align your policy document with your company ethos. This should help you find the right tone for your policy; formal, flexible, strict or casual. Your company culture should also guide you on whether you want a guideline advising on social media's best practice or a policy that ensures compliance.
You can have a strict social media policy that is written formally with little room for interpretation. Dell is a good example of a formal policy that encourages 'all employees to use Social Media the right way' but also communicates the consequences of not following the principles by stating: 'if you don't follow the principles laid out below when engaging in Social Media you could face serious consequences up to termination in accordance with the laws of the country where you are employed'.
One of my favourite social media policies that is written in a very approachable manner is Ford Motor's. It is fun in its layout, just like social media, and easy to read.
When it comes to actually writing a list of principles and rules for your guideline or policy document, asking yourself and employees these questions is a good place to start:
What does social media mean to this organisation?
Why will we use social media?
Who is our target audience?
What platforms would we like to use and have a policy on?
Who will be allowed to communicate under the organisation's official social media channels: specifically trained employees, certain departments or is it best for us to have everyone's input?
Do the chosen individuals have the expertise to represent the organisation officially?
What type of content will be shared across various social media channels?
Who will manage and take charge in external and internal crisis situations (i.e negative posts, complaints, abuse, internal conflict… etc)?
How will we enforce these guidelines?
For further examples of social media guidelines and policies that are being used by multinational companies please click here, or for UK companies only please click here.
Making changes for the better is always a good thing, but we do so more at this time of year than any other. It's really important to have goals so that you can measure your progress (read more about this in our recent 'How-Tu' strategy post). This got us thinking. What positive changes can we make to our online presence in 2015?
New year, new look!
As you might already know, we have been working on a new look for Tuminds over the past six months. We are now really close to unveiling our lovely new brand and we can't wait to share it with you! This is our biggest resolution or 2015, so stay tuned for sneak peeks over the new few weeks!
Getting creative with content
We've been working hard to develop more original content this year, and we will continue to do so in 2015, producing platform-specific hand-outs and more 'How-Tu Tuesday' tutorials. We'd love to know what content you'd like to see in the new year, so please let us know in the comments below!
Working on our website
As part of our rebranding, we will be launching a new website during the next few months. Though social media channels are vital for any business, posts often drive traffic back to websites, making them a crucial foundation and base – so we are really keen to solidify our online anchor!
Over to you!
What are your social media resolutions for 2015? Post them in the comments below or tweet @tuminds using the hashtag #tumindsresolutions. Here are Hanan's 2015 social media resolutions to give you an example!
Hanan's social media resolutions for 2015:
Get better with Twitter lists
Stay off Instagram and Pinterest before bed
Reduce food posts across all social media channels
Update LinkedIn profile
Create better Snapchat stories