Using Social Media to attract Tourists in 2016
These days, people are more likely to turn to review websites and social media to search for travel inspiration for their next holiday.
As our search behaviour changes, it also highlights how our consumer behaviour has changed. Another advantage of digital technology is that we can see and interpret how people use the web and the types of content they access to build a picture of who they are and how best to attract them to our businesses.
This blog post talks about the lessons we've learned at Tuminds; looks at the recent Trends report from the Insight Department at Visit Scotland, and uses data collected by Google on tourism trends and behaviour.
The Online Traveller according to Google
At the end of last year, Google provided us with an insight into how travellers use digital technology to plan, make arrangements and engage while on holiday. These were summarised into the '5 Stages of Travel' that every tourism business should tap into to be successful in the digital world.
Dreaming
Every holiday starts with a dream. Whether it's a location they've wanted to visit for years or they've been inspired by other people's travel adventures (documented on their social media), the digital traveller first resides in the dreaming stage.
It's at this stage that people collect information, make bucket lists and seek out possible adventures. They're inspired by friends who share photos and videos of their own holidays on their Facebook and Instagram throughout the year, and the digital tourist starts to aspire to have their own experiences.
It's here that people start to collect articles, visuals, photography, the story of their possible travelling experience and put these into boards on Pinterest, follow new accounts on Twitter and Instagram, and watch videos on YouTube or Vimeo for travel inspiration.
Planning
This is when they turn to Google and search for travel blogs, online travel guides, transport, accommodation and activities they can do in these dream locations.
According to Google, people visit an average of 40 websites before they make any bookings, and turn to social media for recommendations from friends and family. Pin Trips is also on the rise, helping to coordinate and organise planning of the holiday.
It's at this stage when the digital tourist has the most discussion with their social communities.
Booking
The third stage is when the credit cards start to come out. People will look to TripAdvisor and other review sites to help make up their minds. The digital traveller is much more likely to make a booking (be it for accommodation, travel or activities) if a tourism business has responded to reviews, questions, and feedback on their social media; including Trip Advisor.
The digital traveller expects to be able to book online or by mobile, they don't expect to have to pick up the phone. Again this relates to the patterns of our digital and online use, people are much more likely to be looking at making a booking in the late evenings when work is over, dinner has been had and perhaps the children have been put to bed. So it's not always convenient to pick up the phone at 11pm to make a booking or reservation.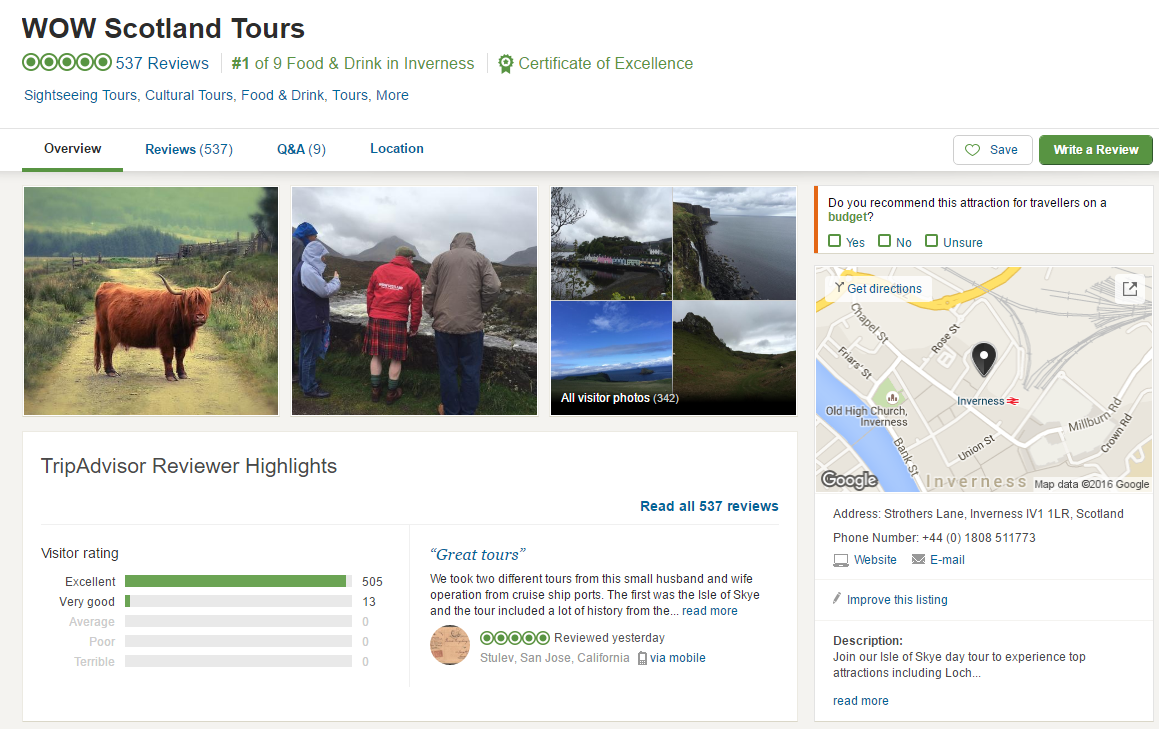 Experiencing
While on holiday, the digital traveller will continue to stay connected (location and Wi-Fi permitting of course). They'll be using their smartphones while on the move, to search for the next thing to do, to find a place to stop for a bite to eat, and to make future bookings while they are on their adventure.
It's this behaviour that makes it crucial that your business is optimised for search engines. You might like to consider what your potential digital tourist might be searching for, while on the go so that you can be there in that moment with your website, your social media or a good piece of helpful content.
Dancing with excitement about my holiday to @discoverassynt tomorrow #westies #scotspirit ?? pic.twitter.com/FeMvRpzXXM

— The Wee White Dug (@Theweewhitedug) 5 May 2016
Sharing
It's at this final stage that the digital tourist creates their Virtual Trail, documenting their adventure to share with (and inspire) their friends and family.
Here's where all that lovely user-generated content starts happening, with picture and video shares to Facebook, Twitter, and Instagram, live streaming of experiences on Periscope or Facebook Live, reviews being written on Trip Advisor, Facebook and Yelp and blog posts published to WordPress and Tumblr.
And so, the journey comes full circle, as the story of your digital tourist's holiday is shared to inspire the dream in the next digital tourist.
Visit Scotland Trends Insights
Throughout the year Visit Scotland's Insight Department publishes their Trends Report, as the tourism and hospitality sectors are sensitive to consumer trends and economic conditions, it's important to be aware of how the environment is changing, what trends are remaining in place and which ones are emerging so we can all continue to develop the tourism sector in Scotland.
Be Honest, Be Authentic
We all have different ideas of what authenticity is, and so will our tourists. Therefore, it's important to have an understanding of who you are wanting to attract and what type of perspective they have of Scotland.
For some, Scotland is tartan, shortbread, and Highland vistas. But for others, it's the contemporary shopping in Glasgow or arts festivals in the Borders or Islands. Tourists are looking for 'authentic' experiences and we need to meet their expectations.
Millennials do travel
Aside from the over 65-year-olds, the 16 to 24-year-old Millennial will travel during the off-season. They not only stay the longest on average in the winter months, but they also have money to spend.
This group is looking for unique experiences, local or 'glocal' products, they are environmentally driven and seek quality for good value. It's not about the cheapest, it's about the best experience.
Keeping the mystery alive
Tourists, consumers, people searching for travel inspiration still want to be in control of their purchasing decisions and want to seek out those unique experiences for themselves too. Offering your potential tourist other services and products they might like from business outside of your portfolio or even similar businesses, brings back an element of that control.
Micro-Experiences
As tourists seek greater flexibility in their experiences, the adoption of the micro-product has driven more interest in a variety of sectors from accommodation, food and drink to textiles.
Examples of micro products include the micro-breweries (small batch local craft beer/ale), micro-hotels (short stay accommodation), micro-adventures (activities based in escapism that doesn't require a lot of planning i.e. a walk in the local park) and micro-retail (pop-up shops and unique independent brands).
All of these products are fostering a sense of exclusivity and personalisation.
Visuals, Visuals, Visuals
A picture speaks a thousand words and a video a million. The rise of visual content, created and shared by users, has been phenomenal in the last few years. A picture or video captures the 'feeling' and the 'experience' of a location, event, activity or experience, more effectively than any other medium.
Instagram, Facebook, Twitter and Pinterest have all become places where people share their images, creating emotional connections with views that can become the motivation for travel to that place pictured, or foster the desire to take a similar photograph in that place for their own social media presence.
Businesses need to consider how they are using visuals to communicate to their market; are they taking advantage of the photogenic hotspots in their area, are they considering wildlife, the built environment, and rural locations as a way to signal to potential tourists the fantastic photographic potential of visiting your area.
Tuminds Insight
Over the years of advising and training tourism and hospitality businesses in using social media to attract and retain tourists to their business, we've found the following 5 tips very useful:
Keep it simple and commit to it

If you're going to use social media then pick a platform you like to use, keep it easy by planning your social media posts in advance and be consistent.

Use visuals and helpful information

If you can't create your own, then share other people's helpful content or inspiring pictures. It's there to be shared.

Know who you want to attract

A family and their dog will be looking for a very different experience than the lone traveller, for instance, so don't be tempted to think you can use the same marketing message for both for a quick win.

Experiment with social advertising

If you want to increase your reach or exposure, then consider spending a small amount on a well-placed and targeted social advert.

Tell your story

If people are interested in the 'real' Scotland and authentic experiences, then why not start with yourself.