Google My Business Becomes Google Business Profile
Things rarely stay the same in the digital world and one of the latest things to change is Google My Business, which has now become Google Business Profile.
What is a Google Business Profile?
Formally known as Google My Business, the Google Business Profile is the profile (previously referred to as listing) that appears on the right-hand side of Google search results when you search for a business.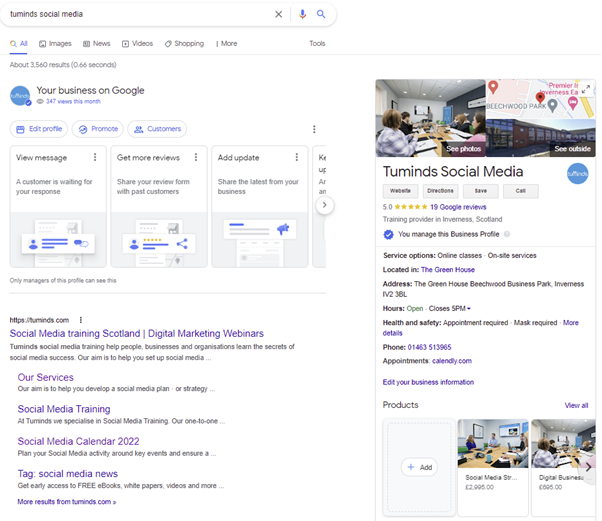 The Google Business Profile for businesses with a physical location that is open to customers/visitors, rather than businesses that sell their products or services online. It is important to claim and manage the listing, as people often rely on the information in this profile (particularly opening hours). As well as giving a positive first impression of the business, an up-to-date Google Business Profile helps with Search Engine Optimisation (SEO).
What's different?
The main difference, other than the name change, is that you now have the ability to update and edit the profile within the Google search results page.
As well as editing your profile here you can reply to messages, add updates, update your business details, create offers and more. Previously you could only manage the profile from Google Business Profile Manager. You can continue to do this for the meantime but as you can see from the screenshot below the management of individual profiles will soon only be done in search.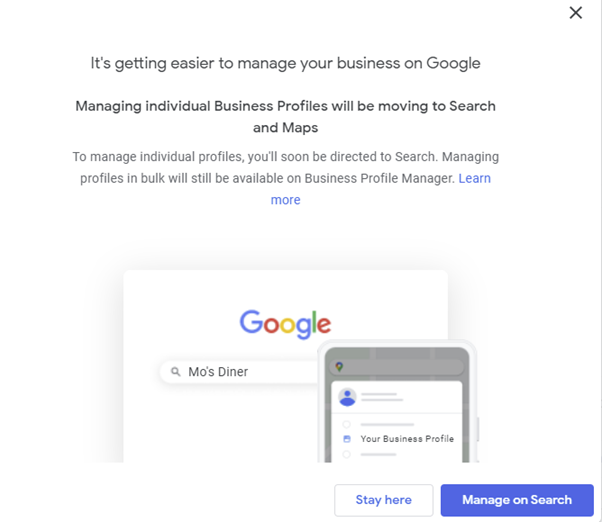 Tips for Google Business Profile
The name might have changed but our advice and tips for your Google Business Profile remain the same!
If eligible, claim or add your Google Business Profile
Keep the profile up to date by keeping the business information up to date and uploading photos and videos
Respond to reviews and questions
Create Posts to share updates – for example, to highlight offers, what's new or events
Use the Product feature to promote your products or services
If you need help with your Google Business Profile get in touch.